'American Crime Story' Will Keep Us Waiting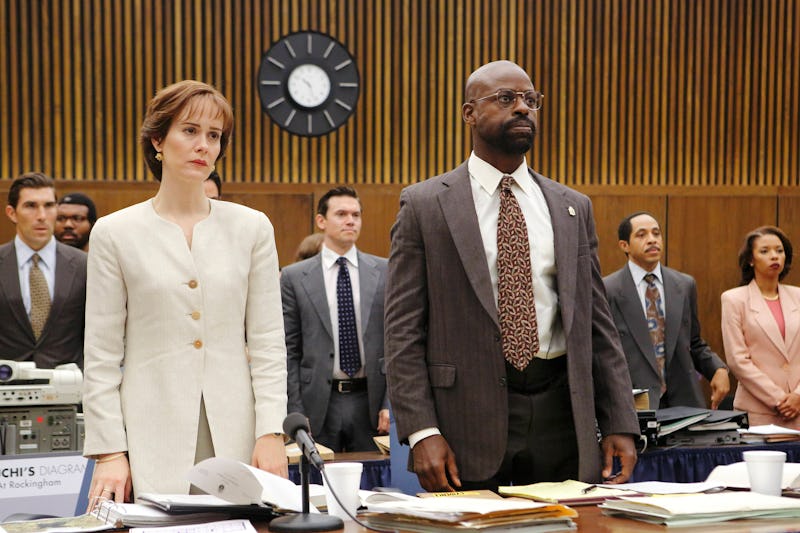 Time has been an ongoing motif of FX's The People v. O.J. Simpson: American Crime Story . Almost every episode is punctuated by conspicuous shots of the clock on the wall of the Los Angeles County Superior Court, reminding us that the seconds are ticking down to the infamous trial's inevitable conclusion, when Simpson was found not guilty of the murders of Nicole Brown Simpson and Ronald Goldman. An entire episode was even devoted to the incredible length of time the jury was kept sequestered, and the psychological effects of that prolonged isolation. Well, now that Season 1 of Ryan Murphy's anthology series is coming to a close this Tuesday night, we're basically all going to be sequestered away for a long wait before the next season. So when is Season 2 of American Crime Story ?
Although a premiere date has yet to be announced, we can make some predictions. The People v. O.J. Simpson premiered on Feb. 2, so in the absence of any official word from the network, it's probably safest to assume that second season will also premiere sometime in early February. However, given the fact that The Hollywood Reporter revealed that ACS Season 2 was under development before Season 1 had even begun, that shows the network has a lot of faith in their series. Given that level of confidence, combined with the critical and commercial success of Season 1, could FX be inclined to fast-track Season 2, making the wait less than a year?
That's a fair question… but it's also a scenario that seems unlikely, given the timing of Murphy's other FX anthology show, American Horror Story. That series always runs from October through January every year; it's hard to imagine that FX would want to waste its two high-rated Murphy shows by airing them both at the same time, when they could prolong the ratings success by airing them back-to-back, as they did this year. At this point, getting an entire season of television filmed and ready to broadcast in time to air before AHS airs its sixth season is all but impossible, so it's almost certain that ACS will continue to air after its Ryan Murphy brethren — which means, again, we're looking at a February premiere at the earliest.
In fact, not only will ACS Season 2 probably not premiere earlier in the year than Season 1, but it's more than likely that it might premiere even later. For a show advertised under Murphy's name, the TV mogul actually had surprisingly little to do with ACS in its inaugural season. It's the first time Murphy has ever attached his name to a television series that he didn't personally create; The People v. O.J. Simpson was actually developed for television by screenwriters Scott Alexander and Larry Karaszewski (The People vs. Larry Flynt). When the network saw an opportunity to capitalize on Murphy's popular anthology brand, they recruited him as an executive producer so he could use his name to attract top-tier talent like Cuba Gooding, Jr. and John Travolta. (Murphy also directed four of the 10 episodes.)
According to THR's initial report on Season 2, Alexander and Karaszewski won't be involved with ACS past The People v. O.J. Simpson… which makes sense, considering they initially pitched that title by itself before it was co-opted by FX as the first chapter in an anthology series. But their withdrawal may mean an increased level of involvement for Murphy, who will likely transition into developing and writing in addition to producing and directing. And given that Murphy is already busy with AHS Season 6 and Scream Queens Season 2 — both airing simultaneously in the fall — it's not inconceivable that this increased involvement on his part will mean ACS gets pushed back from spring to summer of 2017.
Of course, this is all just speculation until FX announces an official premiere date. But don't be surprised if, like the jurors in the O.J. Simpson murder trial, we all end up waiting much longer than anticipated for an end to our suffering.
Images: Ray Mickshaw/FX; Giphy