16 Best Puppy Instagram Accounts On The Internet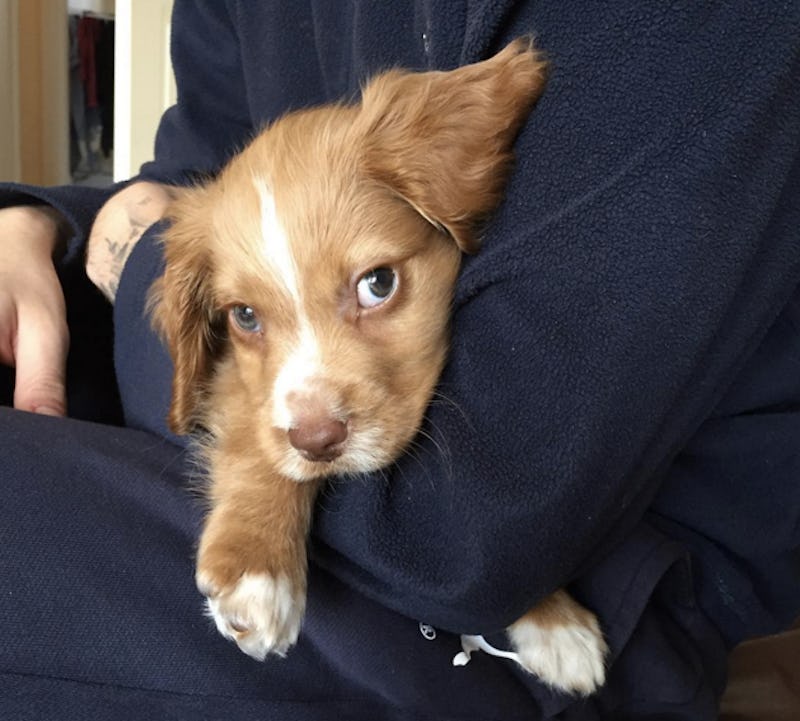 If you think you had a busy day, you should know I spent mine diving straight into the great abyss that is the Internet's holy grail of the best puppy Instagram accounts. Why? Because if there is anything you should be trying to fix in your life, it's the lack of puppy accounts currently showing up on your news feed. Which I am here to fix. All troubles, pains, hurts, and even late fees due to delayed filings of your taxes can be remedied by cute furry faces. That's a guarantee I am willing to suggest based off of my prior experience with those beautiful four legged animals.
I've searched far and wide for those worthy of the title "best puppy" and I think I've come up with some pretty amazing finds. These dogs are of different breeds, hometowns and personalities — but they all have one thing in common. They are THE BEST. As someone who has abandoned hope for humanity, I've invested a lot of those misplaced feelings into the dogs in my life. After all, a dog is a man's best friend. So sit back and enjoy the beautiful pictures of these gorgeous pups. Don't forget to add those that strike your fancy to your newsfeed so that they can brighten your day for years to come.
1. Alta
This cute pup is called Alta. She is energetic, inquisitive and not afraid to strike a pose. Look at how adorable she is with that moose!
2. Seamus
Once I saw this little fluffball's face I couldn't stop staring. He might not have that many pictures, but the ones he does have are amazing. I also enjoyed the caption to this photo a lot!
3. Marlowe
I had no idea that this type of breed even existed! Turns out I have been missing out on the beauty of Fox Red English Lab's for years. Well, my eyes have been opened so I think it's safe to call this a win!
4. Marley
If you are looking for an account with multiple reasons to hit that heart button, look no further. You not only get an active puppy that is running around and enjoying nature, you also get another dog at the same time! Zoe and Marley are best friends, so it's high time you join them!
5. Finn
In my heart I've always wanted a beautiful wolf-dog like this. Sadly, I don't think California is the right place to start that dream fulfillment due to the weather being super hot. Alas, I will continue looking at these photos.
6. Valla
Valla is a purebred German Shepard and cute to boot! I can't stop smiling as I look at those pointy ears!
7. Benji
Benji looks like a peaceful angel in this picture and I just want to snuggle right up next to him.
8. Chars
I've always had a sweet spot for dogs in costumes. Bows, clips, little boots — bring 'em all to me!
9. Hannah
Hannah's eyes are enough for me to swoon. I love this dog!
10. Wilson & Red
What's better than a picture? Clearly a video. Lucky for you, this cuteness above is related to the most wonderful lab you have seen. You can check them both out at their amazing Instagram account. Now take a look at Red!
11. Barney
LEGEN ... wait for it ... DARY. This dog seems energetic and wonderful. I can totally see us playing in the park for hours.
12. Aslan
I'd be willing to climb into a wardrobe to find this magical Golden Retriever puppy. And with a name like Aslan he has some growing to do! I love his coloring and soulful eyes. Quick! Someone needs to let me dog-sit their pet!
13. Syb
Watch as this exceptionally small puppy grows up to be a beautiful, energetic adult dog. I can't with his face. Too cute!
14. Duncan
I thought to myself — what can be better than a Frenchie? Then I saw a Frenchie puppy and got my answer. I think I love dog ears more than anything else, so this puppy really made me smile.
15. Juliet
In case you were wondering if the life of a pet owner is easy, this account will show you the intricacies of owning a beautiful dog like Juliet the Husky. Grooming is something we tend to forget about, but it's vital for your dog's health and wellbeing. Plus, DOESN'T THIS PHOTO LOOK AMAZING?! I mean, it just looks like an entire cloud dog.
16. Dobby
Finally, we have Dobby. Dobby is not a puppy but I really wanted to share his account with you all. Dobby dresses up like Harry Potter characters and that is worth at least two mentions! Dobby also does have pictures from when this dog was a puppy, so it still counts.
I hope you enjoyed this list and go on your own search for some amazing puppy friends online!
Images: Courtesy of Instagrams; seamussprocker/Instagram