Here's Your Weekly Horoscope for April 4-10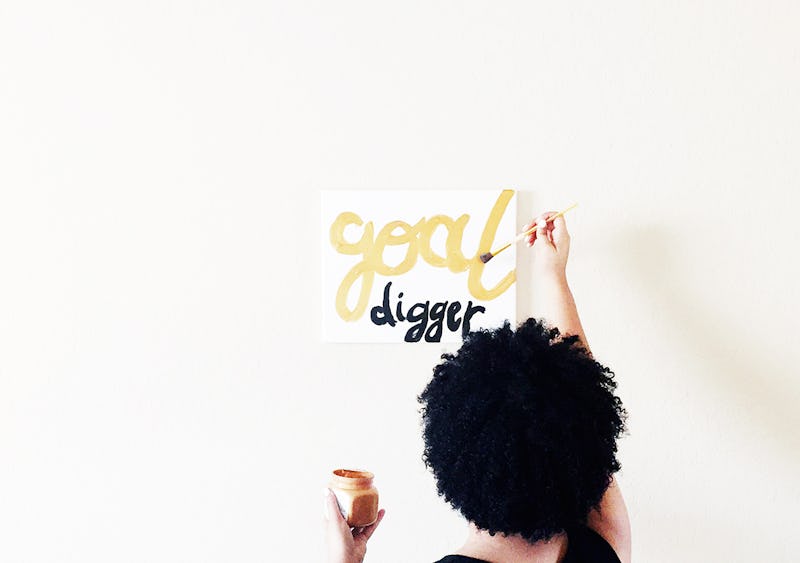 We're constantly fascinated by what our zodiac sign says about our lives, whether it's which signs are most compatible, the best sex positions for each sign, or how each sign handles conflict in relationships. That's why Bustle has enlisted Mecca Woods, a New York City-based Astrologer of MyLifeCreated.com to tell us all about how astrology is affecting our lives each week. This week's topic: your weekly horoscope for the week of April 4-10.
So what's in store for each sign in the upcoming week? Should you recharge your batteries? Have a heart to heart with a loved one? Redo your blog? Change up your personal image? There is lots happening in the cosmos this week (April 4-10) with love-planet Venus and communicative Mercury moving into new signs; followed by a super New Moon in Aries. But never fear, your weekly horoscopes are here to help you make the most of your week.
And, remember to tune into Bustle's weekly horoscopes video live on Facebook each Monday for a rundown of your weekly horoscope.
Aries (March 21 - April 19)
As if your fiery sign wasn't hot enough, the universe is turning up your swag one hundred thousand trillion thanks to seductive Venus and a New Moon in Aries igniting your zone of self-image and personal style. Jazz up your wardrobe, get your hair did and make this your week to mix, mingle, and wow as people (whether for love or career) won't be able to resist you. Don't power trip, though.
Taurus (April 20 - May 20)
I hope you've got your matcha protein shake ready, because this your week to get ish done with Mercury, the planet of ideas and communication, buzzing through your zone of self-image. Looking to get some publicity about you or your work? This is your week to host meetings, talks, or presentations; make calls, send off those emails, and curate your social media posts for the week as you and your words will be golden. If you feel rundown this week, listen to your body.
Gemini (May 21 - June 20)
How can you better the world, around you? With passionate Venus and a fiery New Moon in Aries lighting the way, your humanitarian side come out to play this week. Volunteering, campaigning for a cause (hello, voters!), or organizing your own techie conference could be just what you need to feed your soul and your community. When it comes to people, if someone gives you a funny vibe, keep your distance.
Cancer (June 21 - July 22)
To paraphrase Rick Ross, it looks like this week, you're the biggest boss that we've seen thus far. With attractive Venus in Aries moving into your career zone followed by a super New Moon in Aries, the cosmic vibe of this week could catapult you into a promotion or win you some impressive recognition from a VIP. Don't let an old relationship issue distract you from your greatness, though.
Leo (July 23 - August 22)
Bon voyage, Leo! This week it's all about travel and distant lands as a powerful New Moon in Aries pushes you to quench your thirst for knowledge and adventure. Under this influence, you could find yourself presented with the prospect to travel for work or school (virtual opportunities included), relocate for a better job, studying (or teaching) overseas, or getting your name in print. Love will also be sweet but avoid power games.
Virgo (August 23 - September 22)
Get ready to dive deep, as passionate Venus and a powerful New Moon in Aries light up your zone of power and sex putting you in a femme fatale kind of mood. Throw on some black leather or lace, your reddest lipstick and watch the world (and your lover) melt in the palm of your hand. Though, you can also use this planetary energy to release someone (or a situation) that leaves you feeling devalued or disempowered. Own your worth.
Libra (September 23 - October 22)
This week, think: collaborations, partnerships, and joint ventures as your ticket to get where you want. Venus, your ruling planet, teams up with a super New Moon in Aries to help you connect with someone that could help you to broaden your clientele, which in turn broadens your wallet. While on the romantic front this could be a good time to find love if looking or draw closer to your boo. A family disagreement could throw you off guard mid-week. Stand your ground if you need to.
Scorpio (October 23 - November 21)
Your body and soul come into focus with feel-good Venus and a super New Moon in Aries lighting up your zone of work and health. With aggressive Aries in the mix, you could find taking up a high-intensity workout, like kickboxing or CrossFit to be just the thing you need to blow off extra steam and keep stress levels down. While communicative Mercury moving into Taurus, may bring an important contract or agreement across your table. Take your time to think it over.
Sagittarius (November 22 - December 21)
Getting sweaty on a dancefloor? Check. Staging a one-person show at an indie venue? Check. Singing for your life at a karaoke bar? Check. Taking a weekend trip to Vegas for your version of The Hangover? Check. There's a reason why your sign is represented by a creature that's half human and half beast. Passionate planet Venus and the New Moon in Aries say: get thee to a steamy makeout session quick and rekindle your fire!
Capricorn (December 22 - January 19)
Home is where your heart should be this week, as comfort loving Venus teams up with the Supermoon in Aries to help you find the motivation and resources you need to relocate, purchase property, or jazz up your current living space. With Venus spreading her good vibes around this part of your chart, your home will provide you the sanctuary and comfort you need to recharge your batteries. Though it kind of breaks my heart to say this Cap: you need to chill out.
Aquarius (January 20 - February 18)
Creative Venus joins a New Moon in Aries in your zone of ideas and communications. Start a blog, re-do your website, take a class, sit in on few meetings and share your ideas. You never know who you might impress or inspire. However, your best bet will to be targeted with the moves you make, aligning yourself only with projects and connections that feed your spirit. If doesn't excite you, don't do it.
Pisces (February 19 - March 20)
All right, Pisces. It's time to get in formation and make this cash. With magnetic Venus and a New Moon in Aries hitting your money zone by the 7th, a new job or source of income could be on the horizon so polish up your resume or reach out to potential clients. This is a week of with a ton of potential and possibilities, so stay focused. Later in the week you may need to have a heart to heart with a friend or sibling.
Want more of Bustle's Sex and Relationships coverage? Check out our new podcast, I Want It That Way, which delves into the difficult and downright dirty parts of a relationship, and find more on our Soundcloud page.
Images: Shenaye Suggs/CreateHerStock; Caroline Wurtzel/Bustle