Lip Kits Are Restocking, But What About Glosses?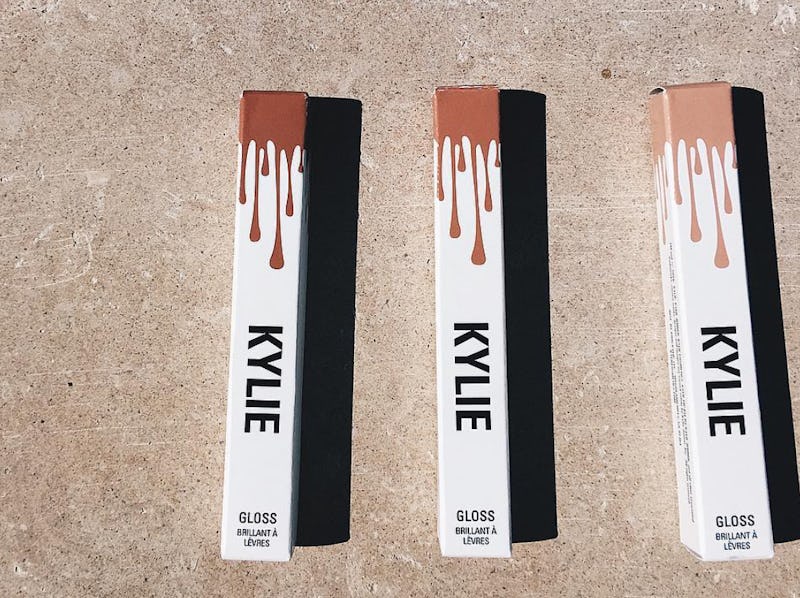 I've got an update on the Kylie Lip Kit front. There is a Kylie Lip Kit restock happening Tuesday, April 5, at 7 p.m. ET, which is 4 p.m. PT. All eight mega matte shades —22, Candy K, Dolce K, Koko K, Kourt K, Mary Jo K, Posie K, and True Brown K— are making their glorious, richly pigmented return this afternoon. These liquid lippies remain a much-wanted and needed pucker product for makeup mavens who love to play up their pouts. But what about the Kylie Glosses? As you well know, Kylie Jenner introduced her shine saturated Kylie Glosses last week, enjoying another instant sellout and further expanding her Kylie Cosmetics empire to include two incredibly different lip products with unique finishes. Are the sold-out Kylie Glosses being restocked alongside the Lip Kits on Tuesday?
Sorry to disappoint, but it appears that only the Lip Kits are included in this restock. The news of the KLK restock was confirmed on Jenner's app, which is the hub of Lip Kit info. The official update only mentions that all eight mattes are coming back around again.
Yes, the Kylie Glosses remain sold out. I am impatiently waiting for mine to arrive; I bought the three pack and can't wait to try all of the warm neutrals and pair them with Lip Kit liners.
Here is a screenshot of the announcement from Jenner's app. It's the evidence that supports the fact that it's likely a "Lip Kit only" replenishment. It doesn't even mention the new glosses —Like, Literally, and So Cute, respectively— being restocked.
The official Kylie Cosmetics Instagram page also teased the KLK restock with a shot of the orange 22 and the deep purple Kourt K. The caption confirms that they are restocking "all 8 mattes" — the brand now has to make the distinction between the mattes and the glosses. So much lip awesomeness, courtesy of Kylie Jenner.
The gorgeous Kylie Glosses may get their own separate restock sometime in the near future. Maybe this week? That's wishful thinking for those who were shut out. But, seriously, who knows? We will keep you updated. It might take a little longer to manufacture a new supply.
Right now, there is no definitive update about a fresh supply of Kylie Glosses. But revel in the fact that a supply of all eight mattes is being replenished.
Happy shopping! Yes, Lip Kits remain a bit hard to get, but you can follow these tips for shopping Kylie Lip Kits. I have a few tubes of Koko K, along with Candy K. My new Posie K and Dolce K Lip Kits just arrived yesterday.
Images: Kylie Cosmetics/Instagram (2); Kylie Cosmetics (1)