Sour Patch Kids Ice Cream Is A Thing Now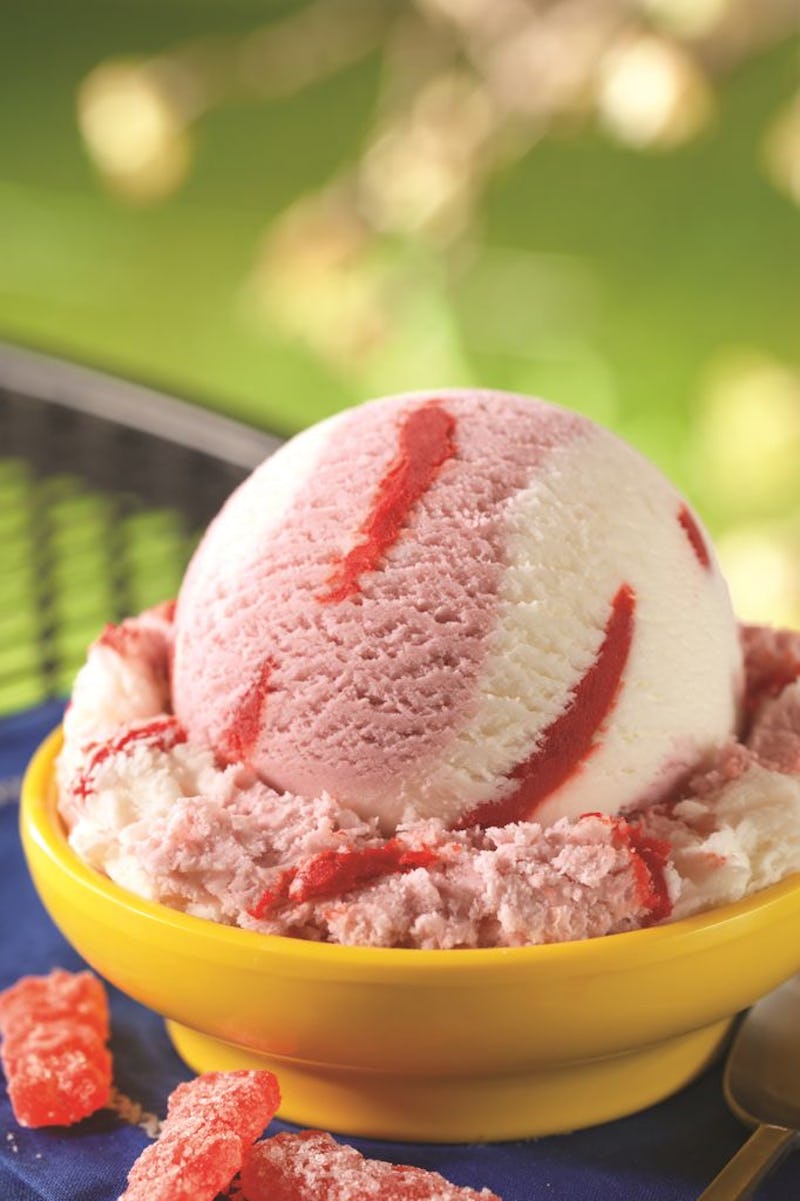 It's the sour candy that makes your face scrunch... and it has now been turned into a legit dessert: For April 2016 only, Baskin-Robbins is serving Sour Patch Kids ice cream as its flavor of the month. The ice cream giant has taken most SPK connoisseurs' favorite flavor — RedBerry — and swirled a ribbon of it into raspberry and marshmallow-flavored ice cream, bestowing upon it the magnificent title of Sour Patch Kids RedBerry Blast. If you really want to commit to the theme, you can top your sweet-and-sour creation off with Sour Patch Kids candies. Things are getting intense over at Baskin-Robbins.
When it comes to their flavors of the month, Baskin-Robbins follows the ever-popular mantra, "Go big or go home." January of 2016 featured Chocoholic's Resolution, which sounds innocent, but was actually anything but. The Swiss-style chocolate ice cream was combined with chocolate ganache cake pieces and white caramel-filled cups, and swirled with a chocolate ganache-flavored ribbon. For a chocolate overload, you could even turn it into a milkshake or a brownie sundae. And the creativity didn't end (or start, rather) there; previous monthly flavors have included Oreo Nutty Salted Caramel, Blueberry Shortbread, and Berry Nut Honey Frozen Yogurt. Your sweet tooth is no match for these bad boys.
Their Sour Patch Kids ice cream isn't the only reason Baskin-Robbins is making headlines as of late. Additional seasonal flavors (available at select locations throughout April) include Baseball Nut (vanilla ice cream, cashews, and a black raspberry ribbon), Cotton Candy, Dulce de Leche (milk caramel ice cream with a milk caramel ribbon), and Strawberry Shortcake — a popular flavor popping up everywhere, lately. Baskin-Robbins has also brought back their springtime favorite Bumblebee Cake, complete with chocolate wafer wings. Stores are certainly upping their ice cream game, as of late. You haven't forgotten Tillamook and Stumptown's cold brew coffee ice cream, have you?
My mouth is watering. Someone get me a scoop of Strawberry Shortcake — stat!
Image: Baskin-Robbins