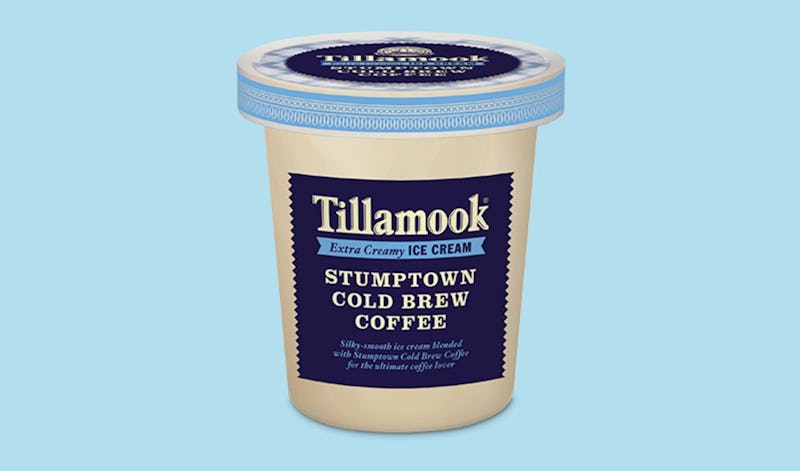 Coffee and ice cream are two staples in the American diet. In fact, I've made meals out of both. (Don't judge me.) Good news for all of us: Oregon coffee hotspot Stumptown has cold brew coffee ice cream on the way, thanks to a partnership with dairy company Tillamook, also based in Oregon. An official release date hasn't been announced yet, according to The Oregonian, but I think we're all anxiously awaiting this tasty treat's arrival.
Taking one of the most popular drinks and marrying it with one of the more popular desserts in our country definitely isn't the worst idea anyone has ever had; in fact, I would argue it's one of the best. Plus, on Tillamook's website, they state that the Stumptown Cold Brew Coffee ice cream flavor will have just six ingredients: coffee (obvs), cream, skim milk, sugar, locust bean gum. and guar gum. The company says they've taken no shortcuts when creating the sensational flavor, which means that when they say "cold brew coffee ice cream," they mean cold brew coffee ice cream: The coffee is steeped without heat for 12 hours before being blended with the milk. 12 hours!
I love the creative solution Tillamook and Stumptown have offered for customers to eat their coffee — and even better, they're not the only ones who have invented ways for us to eat our favorite drinks. Feast your eyes on these beauties.
1. Green Tea Mochi Ice Cream
Do we eat sushi to eat sushi, or to order the plate of green tea mochi ice cream at the end? That's a tough one. But I know one thing for certain: I'll take a ball of ice cream wrapped in pounded sticky rice over a mug of green tea most days of the week. And the demand is high: Green tea is a popular flavor for many desserts and snacks.
2. Draft Beer Jelly Beans
Jelly Belly made all of our wildest dreams comes true with a flavor of draft beer jelly beans — sort of. There's no actual alcohol in it, but it's a wonderfully chewy way to experience your favorite brewski.
3. Frozen Coke
What is it about frozen Coke that makes it so awesome? I'm not even really a soda fan, but if you put the frosty, drink-snack hybrid version in front of me, it's on.
4. Pink Lemonade Cake
This refreshing, summertime must-have can even be made in dessert form. Slap some cream cheese frosting on top and you're good to go. What a pleasant way to eat cake!
5. Jell-O Shots
They sound so innocent that no one will ever think of what happened after you ate an entire tray on St. Patty's Day back in college. You can whip these up in any flavor you want, and they're bound to be a hit. The typical alcohol of choice is vodka, but you can swap it out with something else, like rum. Speaking of which...
6. Bacardi Rum Cake
Unlike the Jell-O shots, you won't eat this and then later wake up wondering why you're taped to the fridge with your friend's underwear on your head; the alcohol content isn't nearly enough for that. It is, however, rich, smooth, and a mouthwatering dessert.
Image: Tillamook