Meet the New Face of Torrid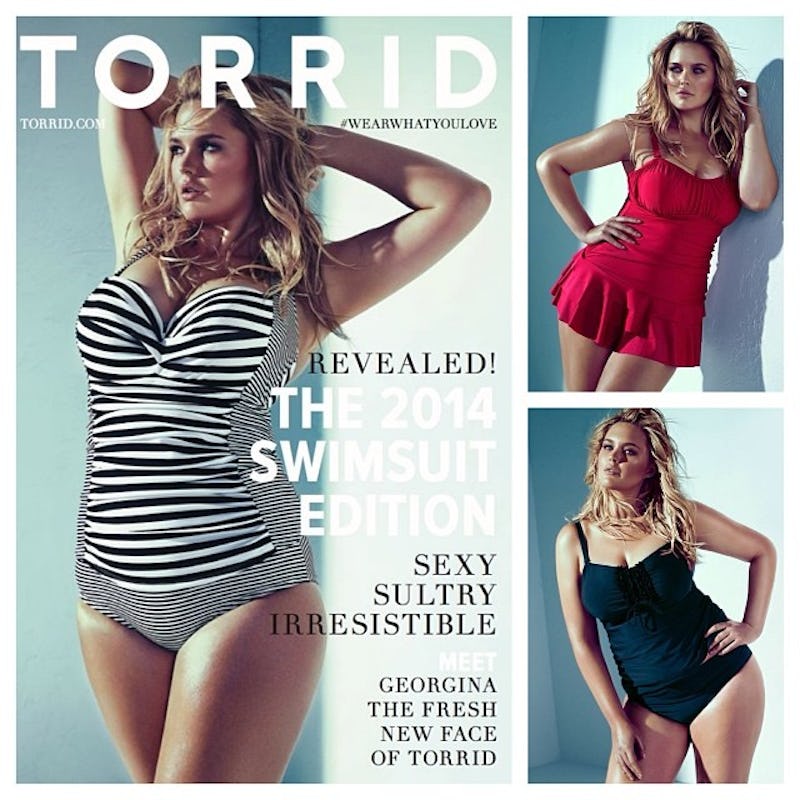 As part of a recent rebranding, plus-sized clothing label Torrid has signed plus-size model Georgina Burke on as the first face of the label. Plus-size brand, plus-size model. Make sense, right?
Yes, but this partnership, a one-year contract, is big news. It is extremely rare for relatively unknown plus-sized models like Burke to wind up with contracts. Plus-size brands tend to use the same few models, leaving little room for new faces to emerge. The fact that Burke is a relative newcomer is a large part of her appeal, according to Torrid's VP of product development, Liz Munoz.
In the plus-size world, there are not a ton of models, and what sometimes happens is you see the same girl over and over. We wanted to find someone newer and fresher that we could make our own
It doesn't hurt that she's also gorgeous and looks slammin' in those retro Torrid swimsuits she models in the catalog. (Images of the 23-year-old model will be featured in stores and online.) It is exciting to see the company, known for fun, fashion-forward clothing and accessories for women sizes 12 to 28, promoting Burke, who proves that beauty comes in all shapes and sizes.
In an interview with WWD, Burke specifically addressed the fashion industry's treatment of plus-sized women: "Sixty-eight percent of women in America are over size 12. Why can't we be put in the magazine as well? Who's to say we aren't good enough to be in there? What's wrong with putting me as the face of a company or using us in a magazine or putting us out there in a fashionable way?"
Georgina Burke's deal with Torrid is the latest of a number of recent successes for plus-sized models, following Robyn Lawley's cover for Cosmopolitan, Madeline Hill's touching article for Fashionista, and IMG adding five new plus-sized models to their roster. Is the fashion world finally realizing that we want to see real women in magazines and advertisements? Let's hope so.
Images: torridfashion/Instagram