11 Books to Read if You Loved the Novel 'Room'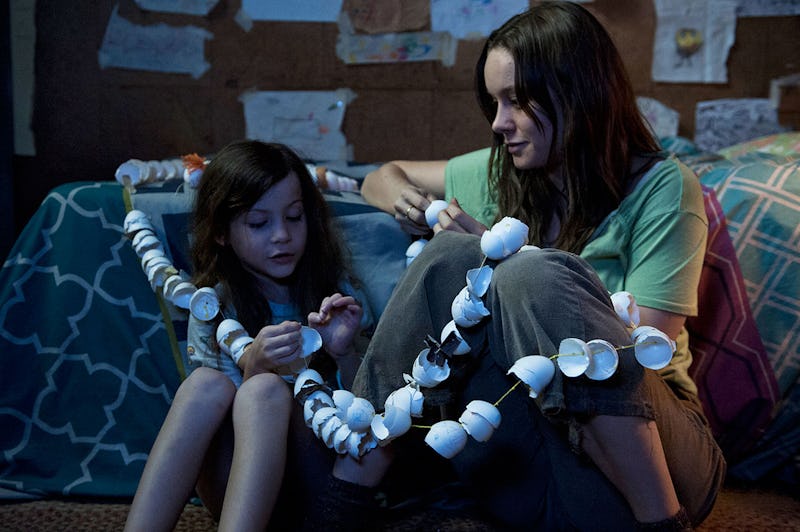 Nothing is more inspiring to me than a good survivor story. There's something about a person who has been through hell and can still wake up in the morning that gives me the strength to make it through my own issues. Every time I feel my own feelings begin to overwhelm me, I look to the stories of those who have survived. The Kimmy Schmidts of the world remind me that I myself can be unbreakable. Emma Donoghue's Room is a brutal novel that translates to a brutal film, but there was such strength in the characters, and I celebrate them for that.
For those of you who love the novel Room, I've compiled a list of 11 novels that you will also love. These novels contain survivors, they contain the messy and heartbreaking pushes and pulls of family, and they contain some sort of triumph. Whether it's a reluctant mother attempting to love the unlovable, a daughter coming to terms with her life changing in drastic ways, or a child learning to figure out who they are, all of these books contain something that will entice you in a different way. Read up, and stay strong.
1. Reconstructing Amelia by Kimberly McCreight
Reconstructing Amelia touches on every parent's nightmare. When lawyer Kate Baron hears the news that her ambitious, level headed daughter Amelia has been caught cheating at her exclusive Park Slope private school, she's shocked. Matters are made even worse when her daughter, in a fit of depression, jumps off the roof of her school in a "spontaneous" suicide. Now Kate must go through Amelia's e-mails, texts, and social media accounts in an effort to put her daughter back together and discover why she killed herself.
2. The Never List by Koethi Zan
If you love stories of survival, The Never List is for you. Best friends Sarah and Jennifer once wrote a "Never List" — a list of things they should never do in order to remain safe. One night, they accept a cab ride, are kidnapped, and locked in a cellar dungeon for three years. Ten years later, Sarah is trying to keep it all together while she lives like a recluse under an assumed name, haunted by the fact that Jennifer never made it out of the cellar. To make matters worse, their captor is almost up for parole, and he's been sending Sarah disturbing letters from jail. In an effort to face her fears and regain control of her life, Sarah sets out on a cross country journey through a seedy BDSM underworld in order to unravel the mystery of what happened to her best friend.
3. Where You Can Find Me by Sheri Joseph
A week after his 11th birthday, Caleb Vincent disappears. After three years of desperate searching, he suddenly appears under a different name, living a seemingly normal life with a man he now calls his father. Publicly, Caleb's parents and sister are completely overjoyed at their child's return, but in private, they struggle to put the remains of their shattered family back together. In an effort to escape the media, Caleb's mother flees to Costa Rica with Caleb and his sister against the wishes of her estranged husband. As they attempt to become a family once again, the mystery of Caleb's time away threatens to destroy what little hope remains.
4. Three Little Words by Ashley Rhodes-Courter
Ashley Rhodes-Courter has spent nine out of the 14 years of her life in foster homes. Still, she's haunted by her mother, who once told her that she's her only mother and no one else would compare. As her mother loses control of her life, Ashley feels as though she's going to be pulled deeper and deeper into the system. This memoir dissects Ashley's relationship with her mother and explores the foster system in a way that is both incredibly real and immeasurably heartbreaking.
5. Mercy Among Children by David Adams Richards
After 12-year-old Sidney Henderson pushes his friend off the roof of the local church in a fit of temper, he makes a quick prayer to God that if his friend lives, he'll never hurt another soul again. When his friend stands, laughing, Sidney knows that his prayer has been heard. From that moment onward, he grows into adulthood as a staunch pacifist — which, unfortunately, often ends in him being exploited by his community. This causes his son Lyle to grow ever more aggressive in defense of his family, and when Sidney is blamed for the tragic death of a little boy, Lyle decides to take matters into his own hands.
6. My Abandonment by Peter Rock
Thirteen-year-old Caroline lives with her father in Forest Park, a giant nature preserve in Portland, Oregon. They live a relatively solitary existence, only coming in contact with the outside world while grocery shopping once a week. Caroline and her father are happy with this arrangement until a backwoods jogger stumbles upon their living situation and throws their entire life in disarray. For those fascinated by Jack's integration into society, My Abandonment is actually inspired by a true story.
7. We Need to Talk About Kevin by Lionel Shriver
Parents often want what's best for their children, just like Ma wanted what was best for Jack. However, in We Need to Talk About Kevin, one mother grapples with the fact that something is very, very wrong with her son. Eva never wanted to be a mother, but now she finds herself the mother of an unlovable boy imprisoned for killing nine people at his local high school. While Eva struggles under the weight of what her child has done, she writes letters to her husband in an attempt to unravel what went wrong.
8. What Happened to My Sister by Elizabeth Flock
Nine-year-old Carrie Parker is attempting to start her life over with her mother, Libby, in the town of Hartsville, North Carolina. Their past is not a happy one; violence has shattered their family to the point where Libby has refused to allow Carrie to mention the name of her beloved sister, Emma. When Carrie meets Ruth, Honor, and Cricket Chaplin, three generations of a loving family, she begins to wonder if she might actually be able to move on and find the loving home she's always wanted. But demons from her past rear their ugly heads and change the future of the Chaplins and Parkers forever.
9. The Long Song by Andrea Levy
This uniquely narrated book centers on a slave named July who grew up on a sugar plantation by the name of Amity. She now looks back at her life as a much older woman at the behest of her far more cultured son, Thomas. This is more than just a fictional narrative; it's also a study of a mother and a daughter as they struggle through the unimaginable horror of slavery.
10. Love Anthony by Lisa Genova
Olivia is a young mother whose eight-year-old autistic son Anthony has recently died. With her marriage failing under the strain of the tragedy, she decides to attempt a trial separation in an effort to make sense of her son's death. Meanwhile, Beth, a stay at home mother of three, has separated from her husband due to his infidelity, and has taken up writing in an attempt to find her own voice. Much to her surprise, she realizes that she's writing the words of an autistic boy, and decides to share it with Olivia. Could it be Anthony? Read and find out.
11. Annabel by Kathleen Winter
In 1968 in the coastal town of Labrador, Canada, a baby is born that is neither fully male nor fully female. The two parents, Treadway and Jacinta, must make a difficult decision to raise the child as a boy named Wayne. In secret, Jacinta and a trusted neighbor Thomasina quietly nurtures the boy's female side. Wayne grows to adulthood in a haze of hyper-masculinity, but deep in his heart he has a second self, a girl named Annabel.
Image: Focus Pictures