Don't Expect More 'The Night Manager', Guys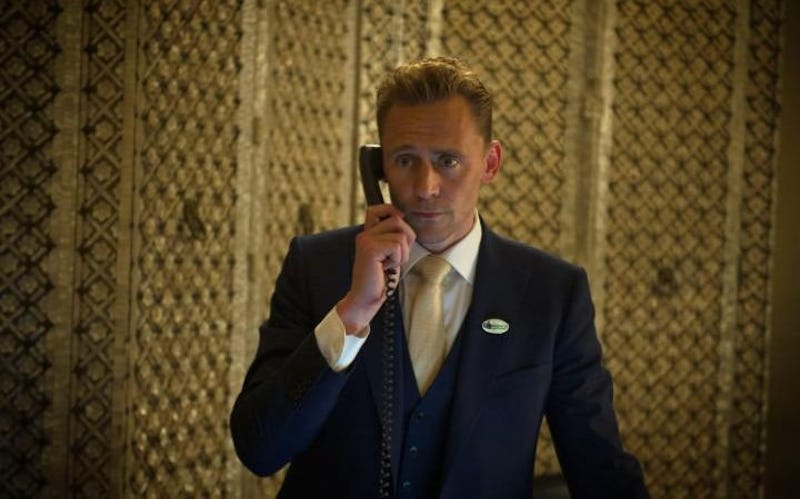 In America, we hadn't even gotten a chance to fall in lust with Tom Hiddleston powerful acting ability in the BBC series (AMC premiere date April 19) before it was announced that there won't be a The Night Manager Season 2. We should have known this would happen. After all, John le Carre, the author of The Night Manager — the book on which the series is based — has never allowed an adaptation that goes beyond his original book, according to his son and the executive producer of the series Simon Cornwell in an interview with the BBC. Allegedly, the BBC was in talks with The Ink Factory, the production company run by John Le Carre's sons, to create a second series, but that alleged talk was for naught.
In the series, Tom Hiddleston plays Jonathan Pine, a hotel night manager turned spy, who goes undercover in the seedy world of an arms dealer Richard Roper played by Hugh Laurie. Everyone who lives in the seedy underbelly falls super in love with Hiddleston, because duh. Semi-spoilers ahead here, but we can assume at least one or both of our characters turned out OK if there were even talks about a second series.
The question is, if our boy isn't going to be in The Night Manager Series 2, what will he be doing? You know, besides wowing us with his dazzling Hiddleston smile and charming laugh just by simply being? According to IMDB, Thor: Ragnarok is currently in pre-production and will be released in 2017. Thus, Hiddleston will probably be spending some of the year in production for that as Loki, the super evil/but also not quite so evil brother of Thor. Meanwhile, he also has a role in the new King Kong movie, Kong: Skull Island, which is in post-production. He will probably be working to publicize that role as well.
So, never fear, American Hiddlestoners. Series 2 of The Night Manager is dead in the water before we even were able to see Series 1, but that doesn't mean we won't still get a lot of Tommy H action. There's plenty Hiddleston to go around. Three cheers
Images: BBC; Giphy