20 DIY Gifts For Mother's Day 2016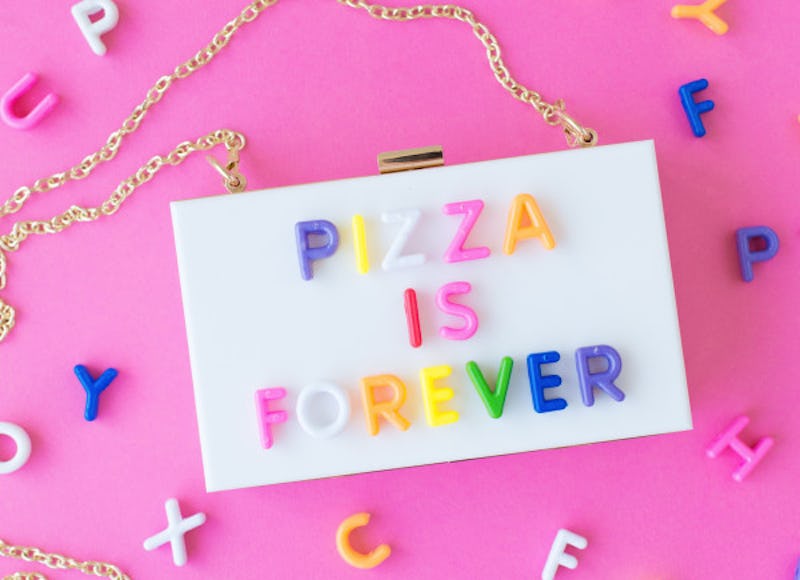 Mother's Day is just around the corner, and you know your mom deserves the best. So this year steer clear of manufactured ways to tell her you love her, and instead get creative with DIY Mother's Day gifts made exclusively for her. Whatever your level of craftiness, this roundup of DIY gift ideas has something you can put together that's sure to bring a smile to her face on her special day.
Give your mom something special that will say more than a simple card. From charming knick-knacks and accessories that take just five minutes to make, to longer term projects that require a little more effort but are sure to wow — there's something on this list she'll love, and mostly because you made it. Try your hand at pretty but practical homeware the sensible mother will adore. Liven things up with party-ready presents that call for mixed drinks and meeting up with her best friends. Get creative with a beautiful new piece to add brightness to her home or with a little well-deserved bling to brighten up her look. Whichever way you choose to show your mother just how much you love her, these gifts make for the perfect celebration of her loveliness on Mother's Day and beyond.
1. A floral wreath for a festive addition to her door
Instead of a bouquet, give your mom this gorgeous arrangement that will last much longer. It will only take you an evening to create, but will decorate her door for days after, greeting her with beauty every time she comes home.
Tutorial: Girl Loves Glam
2. A bright coin purse to welcome warm weather months
This citrus wedge coin purse screams summer and is the perfect pop of color for your mom to pull out of her purse all season long.
Tutorial: Delia Creates
3. A rose quartz ring
Give your mom a little bling in this lovely hue of rose quartz, one of the Pantone colors of 2016.
Tutorial: The Effortless Chic
4. A carry-all with one of her favorite faces
This funky bag can be adorned with any photo you'd like — Dolly Parton's face (as shown here), another fabulous face she admires, or even an old family photo. It's cute, chic, and "completely custom" to perfectly fit her vibe.
Tutorial: A Beautiful Mess
5. A spring-inspired doormat
Put some spring in her step with this floral doormat, adding a pop of color to an unexpected place.
Tutorial: Miss Renaissance
6. Ombre glassware because she's the hostess with the mostest
Add some pizzazz to her glassware options with these pretty ombre party glasses. The oh-so-chic Collins glasses are "screaming for a girls night debut!"
Tutorial: Studio DIY
7. Framed family recipes as perfect kitchen art
Immortalize your family's handwritten recipes by framing them to be hung on your mother's kitchen wall. These heartwarming ensembles "add hints of nostalgia, without a lot of effort" and are an exquisite personal accent for her home.
Tutorial: Julie Blanner
8. A beautifully simple beaded keychain
This effortless project takes just five minutes but will instantly give your mom's keys "a facelift." The simple wooden accessory is smart and stylish, and will keep your mom from losing her keys again.
Tutorial: The Merrythought
9. Upcycled leather hanging magazine rack
Give your mom's favorite subscriptions a fashionable place to rest. This hanging magazine rack uses upcycled leather for a home organization solution that's as sustainable as it is stylish and sleek.
Tutorial: Vintage Revivals
10. Easy graphic art
You don't need to be an artist to freshen up your mom's walls with some art. This super inexpensive project beats any store-bought art and promises super cool results no matter your skill level.
Tutorial: Vitamini Handmade
11. A hat and necklace display
Add some old school glamour to your mother's bedroom with this fun display inspired by Downton Abbey that promises to put her best accessories on show.
Tutorial: Girl Loves Glam
12. A graphic acrylic clutch for a fun night out
Acrylic box clutches are all the rage so get a little playful with the trend for Mother's Day. Spell out her favorite phrase or keep it simple with her name. The crafty project takes just 20 minutes and is "easy enough for a kindergartner to make but awesome enough for all of us" with results your mother will adore.
Tutorial: Studio DIY
13. A sculptural wire and clay nameplate that describes her perfectly
Your mother's home office deserves some aesthetic attention too, so spiff up her space with a custom nameplate that tells the world who's in charge.
Tutorial: A Beautiful Mess
14. A circle matchstick necklace
Give your mom a gorgeous necklace she'll want to wear every day. On trend and looking like it was purchased from a chic boutique, this matchstick necklace is 10 times better than anything store-bought simply because you made it for her.
Tutorial: The Merrythought
15. Copper garden markers
If your mother has a green thumb, gift her these lovely copper garden markers. The bright copper captures light and stands out against the green, and with time will weather beautifully.
Tutorial: Julie Blanner
16. A crochet and leather tote
If crocheting is your favorite pastime or you're up for something new, try your hand at creating this perfect everyday tote your mom will want to carry with her everywhere she goes. Craft creator Delia Creates even added an element of leather as a way to infuse her own "modern, personal creative touch," so feel free to mix it up with your own materials and fun additions to make it that special something for your mom.
Tutorial: Delia Creates
17. A teacup candle
Show your mom she lights up your life with these previous tea candles that add the "perfect touch of vintage and girly whimsy" to any coffee table.
Tutorial: Miss Renaissance
18. Toothbrush holder
Craft creator Vintage Revivals promises this project is so easy, "if you have at least one thumb you can pull it off!" Stress free and super inexpensive (the whole thing will cost you under eight dollars), this practical present is the perfect project for craft-beginners who want to impress.
Tutorial: Vintage Revivals
19. A leather business card wallet for all her professional needs
This little wallet is easy to make and will take care of all your mom's business cards in stylish way. You can even swap out materials, like vinyl instead of leather, for just the right look your mother will love.
Tutorial: Vitamini Handmade
20. Top it off with a handmade gift tag
Once your craft project is completed and wrapped, top it off with one of these DIY gift tags that does justice to your home-made creation.
Tutorial: The Effortless Chic
Images: The Merrythought (2), Girl Loves Glam (2), Delia Creates (2), The Effortless Chic (2), A Beautiful Mess (2), Miss Renaissance (2), Studio DIY (2), Julie Blanner (2), Vintage Revivals (2), Vitamini Handmade (2)