15 Book Quotes About Falling In Love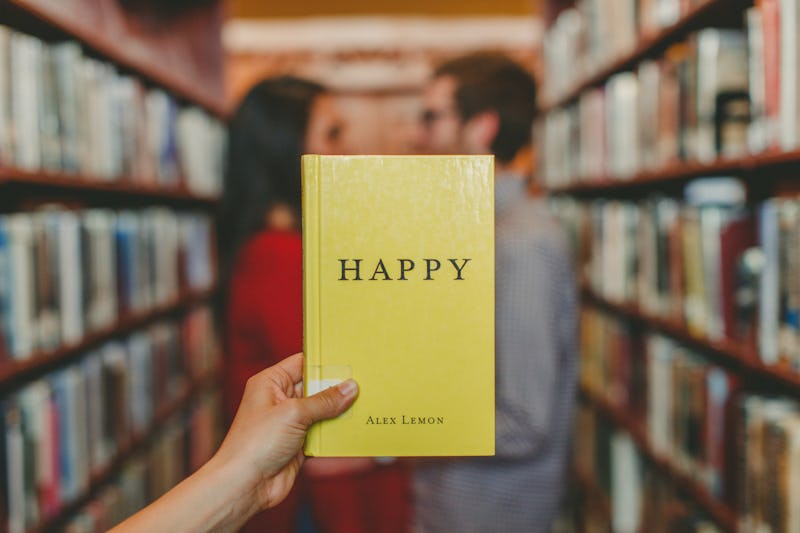 As a life-long reader, my first loves came not from seventh period chemistry class or Theatre Club or band camp, but from my favorite novels. We all remember our first book boyfriend (or girlfriend), and I had many: Heathcliff from Wuthering Heights, Jesse Tuck from Tuck Everlasting, Fitzwilliam Darcy from Pride and Prejudice, Gilbert Blythe from Anne of Green Gables, Count Alexis Vronsky from Anna Karenina, and pretty much every single love-interest that Madeleine L'Engle penned to page. Great literature is filled with irresistible quotes about falling in love — from heartbreak to happily-ever-after and everything in between. And the best part is that when you're totally digging your fictional boyfriend or girlfriend, you can read his or her story over and over again. If not, you can shelve the poor sap for another day.
Here are 15 book quotes about falling in love, sure to add more cuteness to your day than an e-mail full of cat gifs. (Well, maybe not that much cuteness… but almost.) I can promise that they add much more romance to your daily routine. Do you have a favorite book quote about love of your own? Share it with me on Twitter, at: @ECeMiller.
1. "... i didn't fall in love of courseit's never up to youbut she was walking back and forthand i was passing through"
― Leonard Cohen, Book of Longing
2. "We fell in love, despite our differences, and once we did, something rare and beautiful was created. For me, love like that has only happened once, and that's why every minute we spent together has been seared in my memory. I'll never forget a single moment of it."
― Nicholas Sparks, The Notebook
3. "I'm in love with you," he said quietly."Augustus," I said."I am," he said. He was staring at me, and I could see the corners of his eyes crinkling. "I'm in love with you, and I'm not in the business of denying myself the simple pleasure of saying true things. I'm in love with you, and I know that love is just a shout into the void, and that oblivion is inevitable, and that we're all doomed and that there will come a day when all our labor has been returned to dust, and I know the sun will swallow the only earth we'll ever have, and I am in love with you."
― John Green, The Fault in Our Stars
4. "There is never a time or place for true love. It happens accidentally, in a heartbeat, in a single flashing, throbbing moment."
― Sarah Dessen, The Truth About Forever
5. "'Hey Clark', he said. 'Tell me something good'. I stared out of the window at the bright-blue Swiss sky and I told him a story of two people. Two people who shouldn't have met, and who didn't like each other much when they did, but who found they were the only two people in the world who could possibly have understood each other. And I told him of the adventures they had, the places they had gone, and the things I had seen that I had never expected to. I conjured for him electric skies and iridescent seas and evenings full of laughter and silly jokes. I drew a world for him, a world far from a Swiss industrial estate, a world in which he was still somehow the person he had wanted to be. I drew the world he had created for me, full of wonder and possibility."
― Jojo Moyes, Me Before You
6. "And in that moment, I swear we were infinite."
― Stephen Chbosky, The Perks of Being a Wallflower
7. "I love you without knowing how, or when, or from where. I love you simply, without problems or pride: I love you in this way because I do not know any other way of loving but this, in which there is no I or you, so intimate that your hand upon my chest is my hand, so intimate that when I fall asleep your eyes close."
― Pablo Neruda, 100 Love Sonnets
8. "The bottom line is that we never fall for the person we're supposed to."
― Jodi Picoult, My Sister's Keeper
9. "As long as she was falling in love with me, I might as well start making her promises I didn't intend to keep."
― Michael Chabon, Wonder Boys
10. "I was falling. Falling through time and space and stars and sky and everything in between. I fell for days and weeks and what felt like lifetime across lifetimes. I fell until I forgot I was falling."
― Jess Rothenberg, The Catastrophic History of You and Me
11. "It's very important my parents don't think I'm starting to fall in love with people, because then they might notice that I'm growing up, and I'm kind of trying to keep it secret. I think it will cause some kind of incident."
― Caitlin Moran, How to Be a Woman
12. "Never fall in love?""Always," said the Count. "I am always in love."
― Ernest Hemingway, The Sun Also Rises
13. "Maybe tonight you're scared of falling, and maybe there's somebody here or somewhere else you're thinking about, worrying over, fretting over, trying to figure out if you want to fall, or how and when you're gonna land, and I gotta tell you, friends, to stop thinking about the landing, because it's all about falling."
― David Levithan, Will Grayson, Will Grayson
14. "A feeling … That we have some history together that hasn't happened yet."
― Jennifer Egan, A Visit from the Goon Squad
15. "As he read, I fell in love the way you fall asleep: slowly, and then all at once."
― John Green, The Fault in Our Stars
Images: John Felise/Unsplash; Garry Knight, Danielle Moler, gags9999, Leo Hidalgo, Andrea Santoni, Hoffnungsschimmer, Boris SV/Flickr