Fans Can Finally Watch 'New Romantics' On Vevo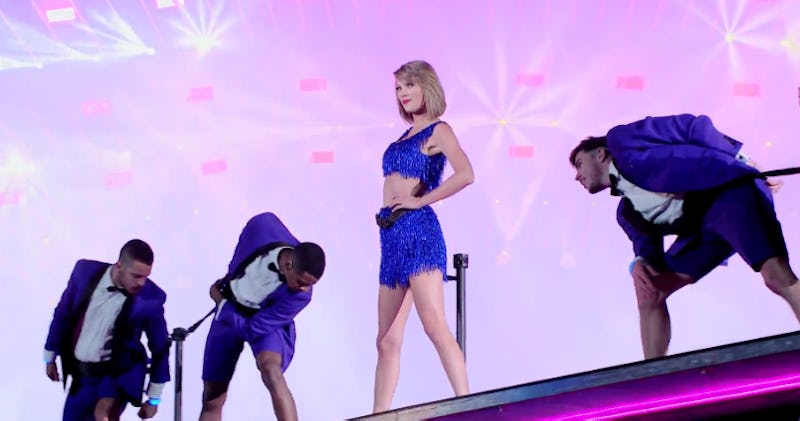 Taylor Swifts music video for "New Romantics" is here... again. Swift recently released the fan-centric "New Romantics" music video, and the Internet rejoiced. However, the Internet quickly stopped rejoicing once they found out that the video was only available via Apple Music. If you don't have an Apple Music account, then you were straight out of luck. Thankfully, the wait wasn't too long, because, on Wednesday, the video became available to the masses. Now Swifties everywhere can enjoy watching the "New Romantics" music video on Vevo. Fans are wasting no time, and the video is steadily racking up views on YouTube, which might just create another viral record for the singer.
Chances are, if you're a big Swiftie, you have probably already watched the video upwards of a billion times. Who could blame you? "New Romantics" is basically a four minute love letter for fans from Swift herself. Somehow, it's not at all cheesy, and she manages to put a big spotlight on the fans and their support without being overly gushy. Well, except for maybe on the occasions when she interrupts to give her pre-recorded thoughts on the tour. Toward the end of the video, she says, "I don't want to forget anything that happened on this tour. It was one of those remarkable moments in time when everything felt exciting." A little cheesy, but still very sweet.
Fans should be glad that she finally chose to release it on a site that everyone can enjoy without having to shell out a monthly subscription. The relationship between Swift and Apple Music seems to be getting stronger and stronger by the day, so there was a little fear that you might not be able to ever see the video without an subscription. Yes, she could totally do that. If Taylor Swift only wanted her music to be streamed on Mars, I'm sure she would find a way to do it, because she is that much of a boss.
Until that day — the day I hope never comes — fans everywhere can watch the video as many times as they desire. Like Swift says in the song, "heartbreak is the national anthem," and now, thanks to Vevo, everyone can sing it proudly.
Image: Vevo