Get Ready To Buy Kylie's Metal Matte Lipsticks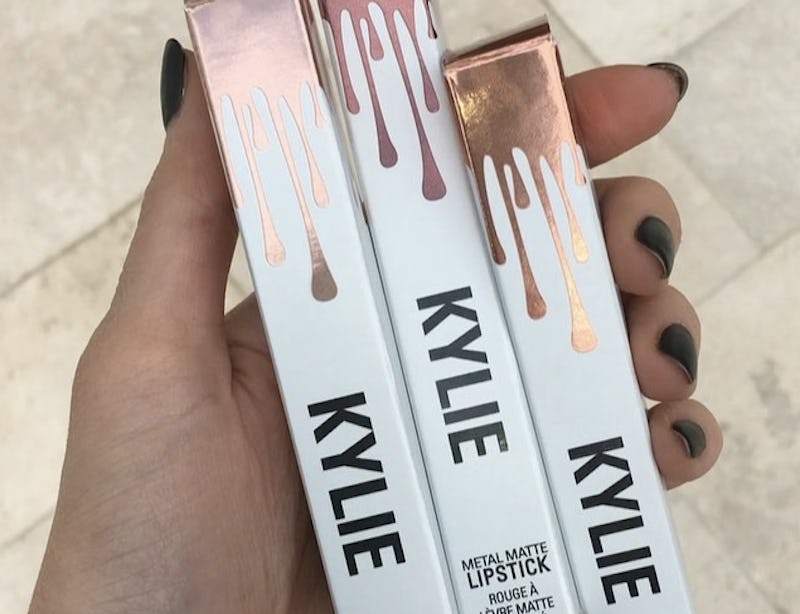 It's that time again, everyone! Kylie Jenner is about to launch a new product, and the beauty and style Internet is about to lose their minds. So when can you buy Kylie's Metal Matte lipsticks? Get your wallets ready because the big day is tomorrow. On Friday, April 15, Jenner is releasing her matte metal lipsticks. A little more than a week after the last restock and she's gracing everyone with new products. Decry Jenner all you want, but the woman knows how to harness the powers of social media to tease her fans and get them ultra stoked for Kylie Cosmetics launches.
Jenner announced the addition of the matte metal lipsticks on Sunday, and the Internet lost its mind. Her Twitter fans' reactions to the matte metals basically blew up the social media site and for good reason. The new collection of lipsticks features a stunning metallic sheen that Jenner seemingly believes to be perfect for festival season. In fact, when she swatched the new lipsticks over on her Kylie Cosmetics Instagram and her personal Snapchat she told fans that the lippies were, "new Coachella colors." Considering that Coachella officially kicks off on Friday, April 15, it makes complete sense that the launch is happening the same day.
The three colors — Reign, King, and Heir — will hit the Kylie Cosmetics website Friday, and while Jenner announced the launch over at kyliejenner.com, there's still no exact time of when the lippies will go on sale. That doesn't mean she won't tell fans, though. After all, Jenner is basically the queen of social media tease.
So, lovers of Kylie Lip Kits, get ready. On April 15, the Kylie Jenner matte metal lipsticks launch. Whether you're after Reign, King, or Heir, a Kylie Lip Kit launch is no joking matter. With colors selling out in mere minutes, it's important to know your matte metal alternative options even though I sincerely hope you snag one.
Tomorrow, may be the odds be ever in your favor, and may all your festival lipstick dreams come true. Thanks for the launch, Kylie!
Images: Kylie Jenner/Snapchat