The Too Faced x Nikkie Tutorials Collab Looks Cute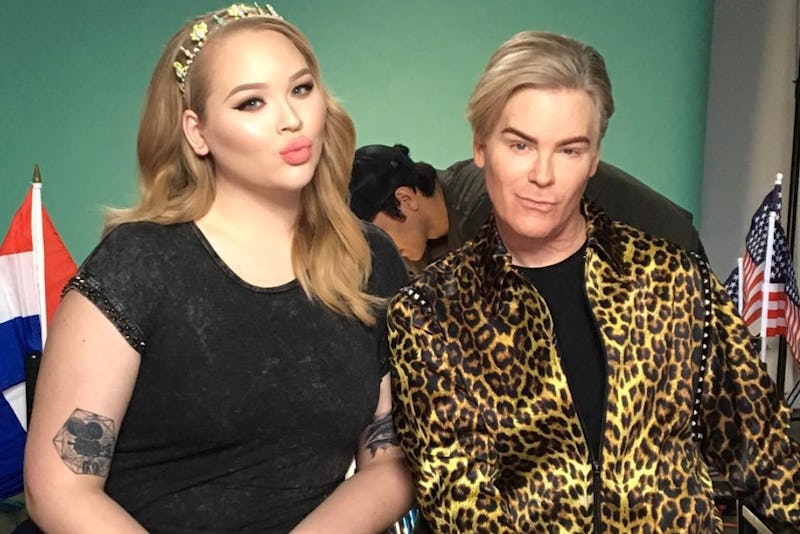 If there is one thing Too Faced's Jerrod Blandino is exceptionally good at, besides creating beautiful makeup and delish eyeshadow palettes, it's the tease. Blandino is the master of the social media hint and that's to(o) his credit, since it creates hype for new launches. Too Faced and makeup vlogger Nikkie Tutorials are collaborating on a makeup kit for fall and that's all we really know. The brand is also mashing up with Kat Von D Beauty and we only get crumbs of information regarding that bound-to-be-blockbuster collab. That said, Blandino shared a visual of his brand's upcoming partnership with Nikkie.
Are you ready for it? Well, don't get too, too excited yet —no pun— since it's only a packaging shot. It doesn't offer a look at the products, which you can safely wager will be outstanding. But this quick Instagram image does serve as an effective reminder that Too Faced is a forward-thinking brand, since it has teamed up with a popular vlogger. It positions the brand as a "must-have" for millennial makeup mavens.
Oh, and yes, the packaging does look way cool because duh. Too Faced specializes in feminine details with its packaging and you can see that here with the hot pink lettering and leopard print.
So insanely adorbs! I mean, I am already excited to see what's inside. But this little hint upped my curiosity, so it was majorly effective. It got me further excited to see the end result and what Too Faced and Nikkie Tutorials are cooking up.
There is no way this won't end well. And by "end" I meant the product that eventually is sold.
Nikkie Tutorials also shared the same shot, but with a little more information her hashtagged caption. The makeup maven reminded us that this collab is coming in the fall.
One thing to remember? Since Blandino is so good at teasing fans and Too Facers about upcoming launches, like the art pen eyeliners, you can expect a wonderful tease of what's inside the Nikkie Tutorials collab. Yay!
Images: Jerrod Blandino/Instagram (2); Nikkie Tutorials/Instagram (1)