15 Gifts For 'Jane Eyre' Lovers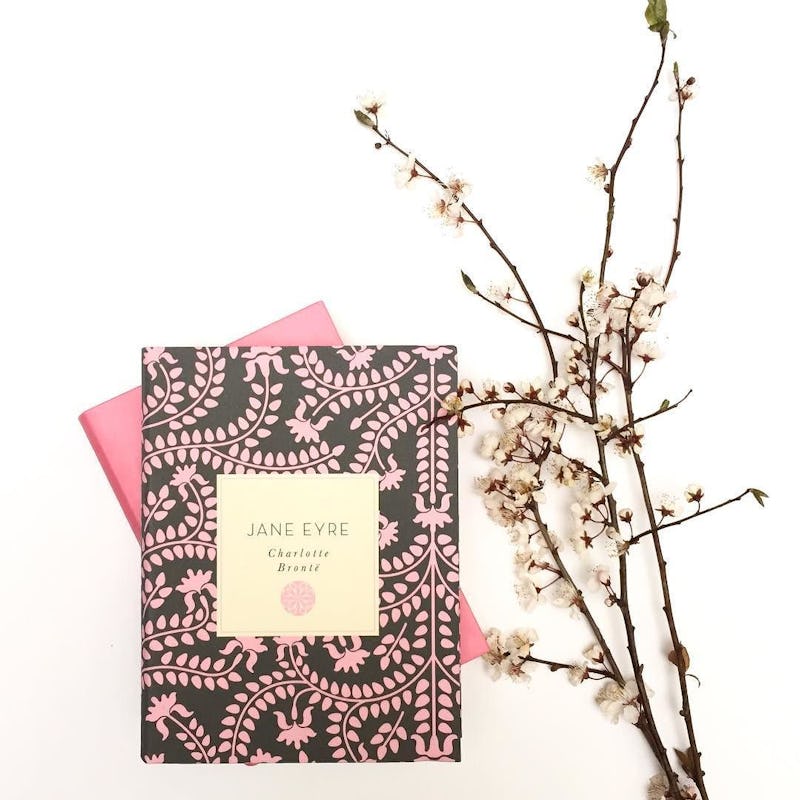 If you have a gift-giving event on the horizon and a Brontë-obsessed friend to buy for, these gifts for Jane Eyre lovers are just what the Victorians ordered. Perfect for anyone with a Jane Eyre obsession of the highest degree, they are sure to delight and amaze. And if you're buying them for yourself? I won't tell a soul.
Over the years, Jane Eyre 's lasting influence has given Brontë fans dozens of movies, stageplays, retellings, and sequels. Now, thanks to fandom-oriented commerce sites, such as Etsy and Cafe Press, every Jane Eyre lover can have a little piece of Brontë magic in her home or on her person, at all times! No matter what your budget or hobbies are, there is a gift on this list that's perfect for the Jane Eyre lover in your life.
A century-plus-old novel doesn't have to be boring, and neither do the books, clothing, and housewares it inspires. Jane Eyre lends a Gothic whimsy to our lives. You don't have to live like a Victorian to bring a bit of that era into your home.
Check out my selection of gifts for Jane Eyre lovers below, and share your favorite Brontë-repping items on Twitter.
1. Drinkware
This tumblr is perfect for when you need a drink to brood over. (Jane Eyre Literature Rocks, $13, Etsy, theUncommonGreen)
2. An Infinity Scarf
You'll keep Jane Eyre with you forever when you have this great accessory. (Jane Eyre Infinity Scarf, $39, Etsy, UniversalZone)
3. A Thornfield-Scented Candle
Bring the Thornfield garden indoors with this soy candle. (Thornfield Garden Soy Candle - 8 oz, $11, Etsy, FromthePage)
4. A Pinback Button Full of Good Advice
Truer words have never been spoken. (if there aren't any skeletons in a man's closet, $1.50, Etsy, beanforest)
5. Writer's Blocks!
Get it? (Writer's Block: Charlotte Bronte Jane Eyre, $9, Etsy, LiteratureLodge)
6. A Set of Wrapped Pencils
Sketch a stunning portrait with these pencils, and remember: the shadows are as important as the light. (Jane Eyre Wrapped Pencil Set, $10, Etsy, bouncingballcreation)
7. A T-Shirt That Reps Jane Eyre's Most Tragic Character
You'd go a bit mad, too, if you were locked away. (Madwoman in the Attic, $23.99, Cafe Press, MissThree)
8. This Awesome Mug, Because Twilight Can Suck It
As a Twilight hater, I definitely need this mug. (Team Edward Rochester Mug, $12.99, Cafe Press, MissThree)
9. A Book Purse, Obviously
The book purse trend won't die out any time soon, so why not carry your copy of Jane Eyre inside a repurposed copy of Jane Eyre? (Jane Eyre Book Purse Jane Eyre Book Clutch, $58, Etsy, NovelCreations)
10. Cute, Affordable Soaps
Bathe in your love of Charlotte Brontë's novel with these adorable soaps. (Jane Eyre Literary Tea Soap Gift White Tea Soap, $8, Etsy, TeaSoapBooks )
11. A Counted Stitch Pattern, So You Can Practice Your Needlework
Be a good Victorian and practice your domestic arts with this haunting stitch pattern. (COUNTED STITCH pattern Jane Eyre Charlotte, $5.81, Etsy, MrsPeggottyArts)
12. This Gorgeous Printable
Lavender and typography combine forces in this lovely little print. (Digital Download Art Printable Quote I Am No Bird, $3.49, Etsy, tori52shop)
13. A Purse Big Enough to Store a Poor Orphan's Life Savings
This literary change purse is a perfectly subtle way to show off your Brontë fandom. (Jane Eyre Coin Purse // Charlotte Bronte //, $20, Etsy, PeelsadPosies)
14. The Perfect Vanity Plate
Sure, other folks might rather be in Hobbiton or on the TARDIS, but Thornfield's what calls to you, and that's A-OK. (License Plate Jane Eyre Bronte Thornfield Hall Car Tag, $12, Etsy, eaton)
15. A Lovely Set of Coasters
Turn Jane Eyre into a coffee table book with this fabulous set of ceramic coasters. (Vintage-Style Jane Eyre Ceramic Tile 4-pc., $10.50, Etsy, LemonPlumDesigns)
Image: mybookbath/Instagram