Tom Hiddleston On Bringing Jonathan Pine To Life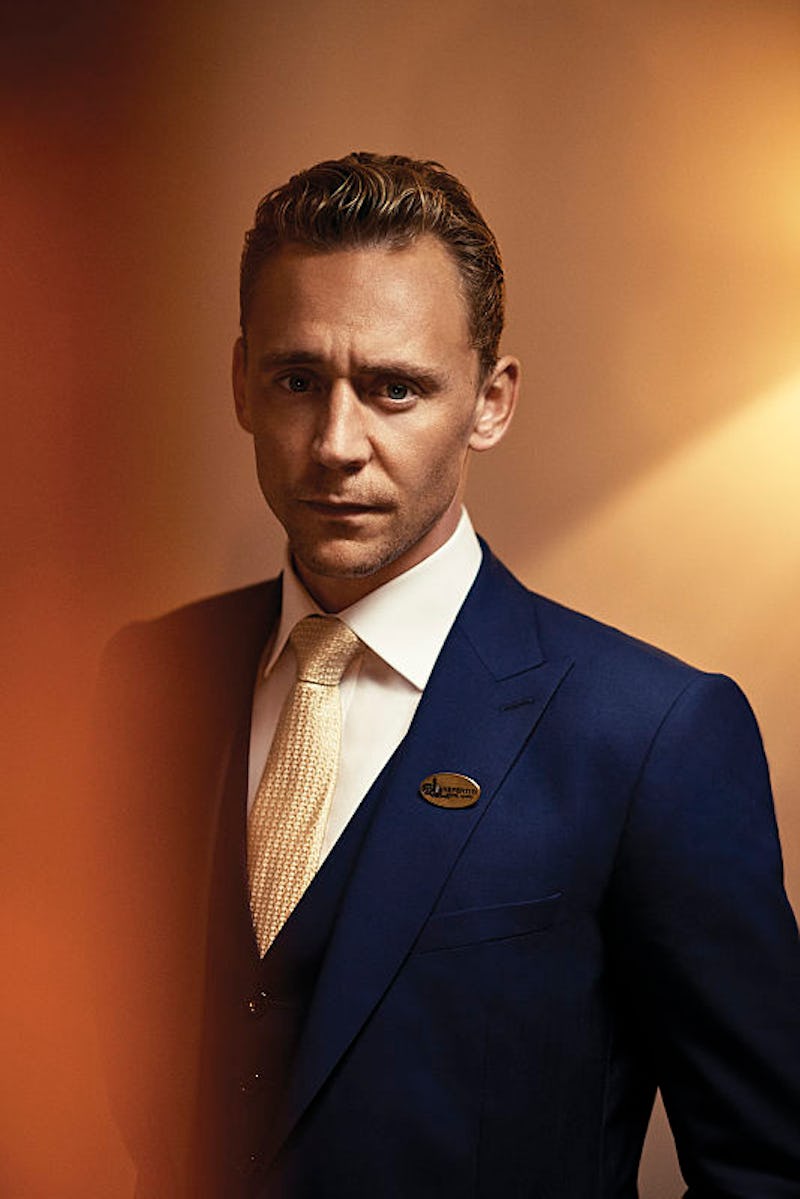 It should come as no surprise that Tom Hiddleston was well-prepared for his Night Manager role. Director Susanne Bier tells Bustle at the Tribeca Film Festival premiere of the series that Hiddleston even studied under a real hotel night manager to learn the craft. And, the actor gave just as much thought to his wardrobe. Tom Hiddleston's clothes in The Night Manager for his Jonathan Pine character were chosen very deliberately, according to the actor himself. He tells Bustle that he worked closely with the costume designer to make sure Pine's duds were true to character, and it helped Hiddleston get into the role. "The way he dresses is, I found, very useful," the actors says.
Although, at first glance, Hiddleston appears to be playing a character that looks like himself for the first time in a long time (no black wig, no American accent), Pine's style isn't necessarily Hiddleston's. "The costume designer and I were quite specific about his hotel uniform, which had to be elegant and refined but also be modest and dutiful so you don't stand out," he says. "You just have to look trustworthy and presentable, so I found getting into that costume gave me that sense of modesty and duty."
It's not all snazzy suits for Pine, though. As he transitions into his undercover spy role, Hiddleston reveals that his outfit changes are very deliberate, as well. "When Pine is out of that stuff, when he's wearing his own clothes or ... when he goes undercover and starts wearing more casual clothes like leather jackets and riding a motorcycle, that felt very different," Hiddleston says. "Each of his identities were very specifically delineated in terms of what they wear."
Hiddleston's dedication to getting into character didn't stop at his costumes, though. He explains that he looked to the book that the series is based on for inspiration. "The thing I clung to most of all was [John] Le Carré's writing. There is extraordinary nobility at the heart of Pine and courage that comes from a place of quite righteous anger, which is anger at the cynicism of Richard Roper," Hiddleston says. He also points out that Roper has a "beautiful life [which] is funded by profits and proceeds from trading in death. ... Roper has divorced himself from the consequences of the violence of which he profits."
Hiddleston says that he also related to Pine's frustration over the way Roper profits from the destruction of others.
Pine's anger, and I think Le Carré's anger, is that a man of Roper's standing, who's been given so many blessings, who was an inheritor of all the freedoms of British citizenship, has used those privileges to do the worst things imaginable. So I found myself cleaving to that anger which I related to actually as the center of the character.
It doesn't shock me in the slightest that Hiddleston took such a deep dive into his character. He's classically trained in acting, and he takes every role of his seriously. With that much time and attention paid to Pine, from the clothes to channeling his feelings, I'm sure Hiddleston's performance will stand out in The Night Manager when it premieres for American audiences on Tuesday, April 19.
Images: Mitch Jenkins (2), Des Willie/AMC