Lisa Continues The Munchausen Talk On 'RHOBH'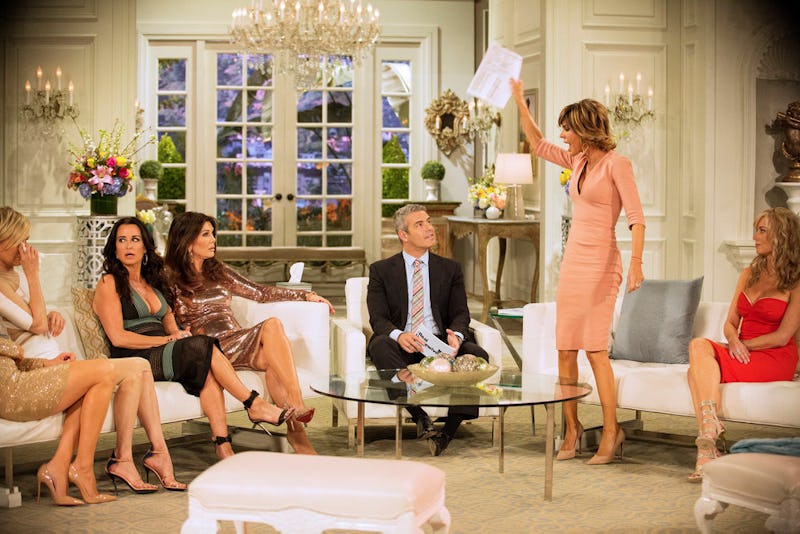 Wow. Part one of the Real Housewives Of Beverly Hills reunion has already blown my mind and we still have two more parts to come. I was starting to think that we were just going to see all of the ladies rehashing the same old, tired conversations about Yolanda's illness. And, while they did talk about Yolanda having Lyme disease, the episode also brought with it some stunning accusations. Right before the hour was through, Lisa Rinna pulled out phone records and claimed that Lisa Vanderpump had told her to talk about Munchausen to keep the season interesting. Vanderpump denied these allegations on the show.
During the reunion, when Rinna was confronted with all of the footage of her talking about whether Yolanda was faking her illness or not, Rinna decided to do what she did all season... blame Vanderpump. After unsuccessfully trying to explain why she was always obsessing over the validity of Yolanda's illness-related Instagram posts, Rinna seemed like she was drowning in her contradictions, and it was starting to look like it would be the same redundant conversation we had seen occur all season.
But, then Yolanda straight up asked Rinna why she felt the need to bring up Munchausen on the show for the entire world to hear. Rinna's reply was shocking to say the least. She said that while they were out for her birthday, Yolanda had shown up without makeup and everyone kept commenting how awful and sick she looked (nice, huh?). She said that her husband Harry had scolded them all and said that they all needed to support Yolanda, whether she was sick or not. Well, that's when Rinna claimed that Vanderpump allegedly said, "There goes our f*cking storyline."
Yolanda immediately burst into tears on the reunion. Vanderpump denied ever saying that. Kyle also said that she never heard Vanderpump say that. Rinna also claimed that Vanderpump called her and told her to bring up Munchausen. Then Rinna pulled phone records out of her purse to supposedly prove that the phone call occurred.
I don't even know what to say. My favorite part was definitely Andy Cohen's facial expressions throughout the entire thing. I know I'll be tuning in for part two next week to see if any of this gets resolved. These ladies definitely know how to bring the drama.
Images: Isabella Vosmikova/Bravo