7 Books To Give Your Friends Who Have Kids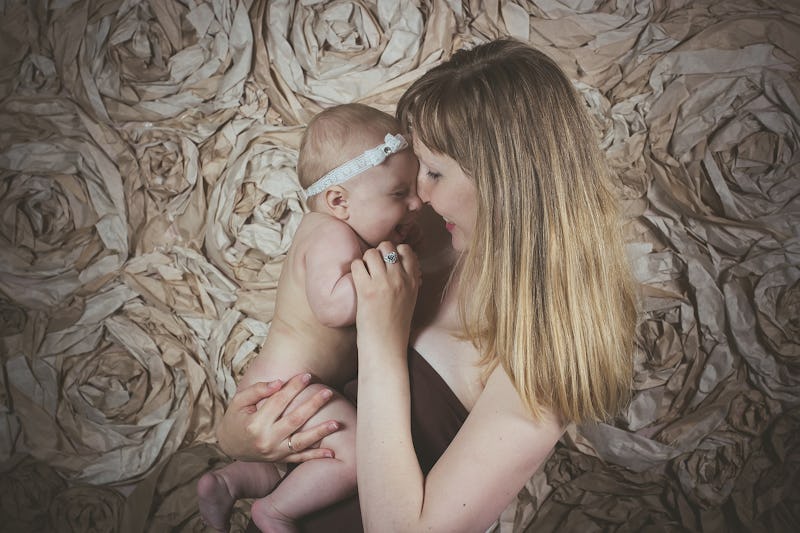 Here's one of the scariest things that happens when you get older: all of a sudden, Mother's Day rolls around — and it's not just your mom that you have to buy a card for. Nope, you have friends with kids now... when did that happen? Life goes so fast (and other clichés).
This scary growing-up thing might have happened to you already, and if so, there's a good chance you're totally freaking out. It seems like just yesterday you were drinking bottomless mimosas at brunch, and now all your friends are holed up with bottomless bundles of poop instead. You used to be able to bring a smile to their face just by showing up with a cheap bottle of vodka, but now you feel like you have to raise the stakes a little. You've heard that your friends will change when they have kids — but who are they now? The time to buy Mother's Day gifts is just around the corner. What are you going to buy them?
It's OK, you can stop panicking. I'm assuming that your friends are book-lovers (which they are, of course, otherwise why would you be friends with them?) So the answer is simple: get them a book. (Side note: I can't remember the last time I was asked a question to which the answer was more complicated than "get a book." It's literally a catch-all. You might want to write that down or something; it's pretty solid advice.)
Here are the books your friends with kids will just love to get their hands on.
If you have a friend who's just found out they're pregnant, they're bound to have a ton of questions. You want to help them and be there for them — but let's be honest, you don't have a clue either. This Mother's Day, reading this book together would be a great way of letting your friend know that you're with them every step of the way.
Have you heard any of your mom friends worrying about the fact they can't keep their kids occupied without sitting them in front of an iPad? The Egg Thief is a totally absorbing book for their little ones, so why not gift it along with a bottle of wine for your friend to enjoy in a rare moment of peace while the kids are reading?
Now that your friend's a mom, she might be a little concerned about feeding her kids something a little healthier than the take-out Chinese and diet sodas you guys used to survive on. You can help her make the transition smoothly with these handy recipe book from E! News star Maria Menounos.
Modern women are often expected to "have it all," and women with kids are hit with the brunt of those expectations. The Hole in the Middle is a novel all about the reality underneath the "superwoman" image. Your mom friend will find it totally reassuring that she's not the only one who can't manage everything all the time.
When your friends start having kids, the main thing you'll probably be hearing from them is that they're so tired. Seriously, this parenting thing sounds exhausting. But Arianna Huffington's got some pretty wise words on how to get enough sleep. She's had two kids, so she's got some serious insight.
Your mom friend probably has a house full of broken crayons and messily colored-in drawings of Cinderella, but while the kids are scribbling away, your friend deserves an adult coloring book of her own — and it's allowed to be a little more explicit.
But above all, this Mother's Day your friend deserves to know that even though her life has changed, your friendship hasn't. These cute novel about an unforgettable friendship will make a great gift for your mom friend this Mother's Day — and perhaps you could offer to babysit while she has a night off to read it!
Image: Pixabay