The One Way You Haven't Used Kylie Metal Mattes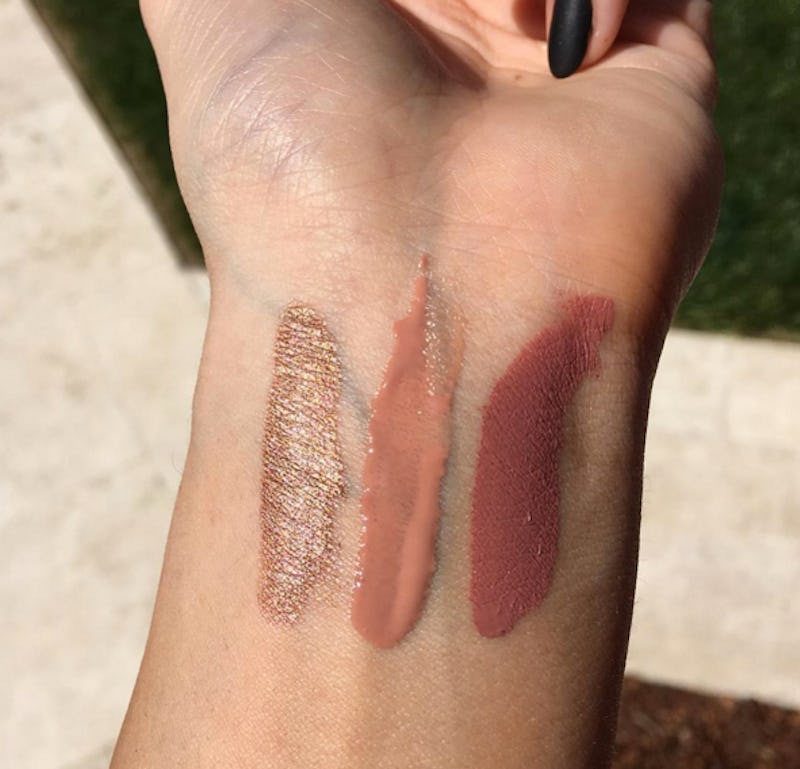 The lip product-making queen shocked the Internet with her metallic lippies, and thankfully, they will be making another appearance on Kylie Cosmetics soon enough. Find out how to use King K to highlight your lips because sometimes just a little dab will do when it comes to a metallic lip look. The finish of these metal mattes are bold and sure to get you noticed, but what if you're not into an all-over gold, rose gold or copper-colored pout? Well, fear not, there are still plenty of ways to put these lippies to good use.
Because even if you're not into rocking a shiny lip all of the time, it's hard to resist purchasing anything that Kylie Jenner creates. As soon as I saw the swatches of these shades, I thought they'd make great highlighters for your cheekbones and under your brow. But, I didn't think of this one very obvious way of using them — as a way to illuminate your lips.
In a recent makeup tutorial posted on Jenner's website, makeup artist Hrush Achemyan used Dolce K as a base lip color. Then, she added the golden King K only in the center of the lips, and it was a great way to provide a glowing effect without being over the top. It really was a genius move on her part, and I can't believe I didn't think of application method sooner!
She uses her finger to dab a little of the gold color on her lips, and it adds just the right amount of shine. Dolce K and King K clearly make the perfect combo for a more subtle, but still shiny lip look.
King K's got a major shimmer factor, so it's nice to know it can be used sparingly if that's more your speed.
No matter which of the metal mattes you're into, there's a matte that will pair perfectly with it. Here, you see Heir and Candy K make a great match.
These babies even sparkle in low light, and they'll just beam in the sunlight!
There's no wrong way to wear these. You can slather this lippie all over your pout or just use it as a highlight. It's completely up to you.
Want more fashion and beauty tips? Check out the video below and subscribe to Bustle on YouTube!
No matter what you do, your pucker will look amazing so, get ready to apply those metal mattes in whatever way you see fit.
Yep, just like that.
Images: kyliecosmetics/Instagram (1); Giphy (1)