Why 'High School Musical' Is The Best DCOM Ever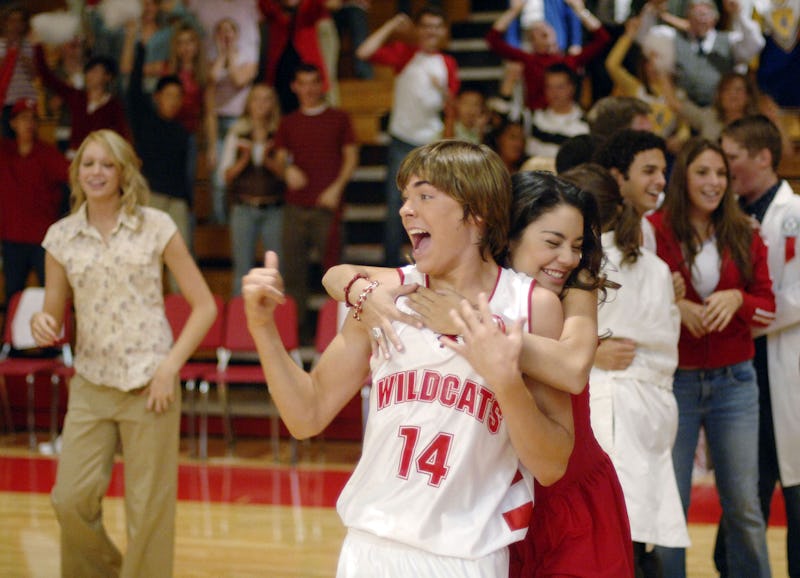 Get your throwback moves ready, because the Disney Channel is hosting one heck of a movie marathon. Over Memorial Day weekend, the channel you grew up loving is marking its 100th Disney Channel Original Movie with a movie marathon that will give you all of the nostalgia your life has been missing. From Friday through Sunday of Memorial Day weekend, the Disney Channel will be airing 24 hours of memory-filled fun, with a Disney Channel Original Movie marathon. And yes, that means all of the movies you grew up loving will be airing, including the best ones like Camp Rock, Halloweentown, and, my favorite, High School Musical. In fact, I'd go so far as to say that High School Musical is the best Disney Channel original movie of all time!
Sure, you might like some of the other original movies for their great songs or the fact that they make you remember that sleepover at your best friend's house when you dipped her sleeping brother's hand in warm water, but there really is no DCOM like High School Musical, both for the impact it made on an entire generation and how it propelled a new cohort of talented teens into the limelight.
I mean, just think of all of the careers that came from High School Musical. Zac Efron is now one of Hollywood's biggest stars. Vanessa Hudgens starred in Grease! Live. Ashley Tisdale is a major movie producer these days. So the star power behind this amazing movie alone is enough to secure its position among the superlatives.
But there are plenty of other things too, including the fact that the songs from High School Musical are definitely the best. You probably still have some of them on your phone right now, and — don't lie — you probably don't skip them when they come up on shuffle. (Confession time: Sometimes I still choose to listen to "Get'cha Head in the Game." Don't judge. It's one of the best pump-up songs ever.)
And then there's the fact that the movie had one of the best messages of any of the Disney Channel original movies. Remember how moved you were by this movie all about embracing who you are and not being swayed by peer pressure to involve yourself with things that are truly not what you are about?
GAH. SO GOOD. What's not to love about a Disney Channel original movie like that?
So let's all just admit it to ourselves now: High School Musical is definitely the best Disney Channel original movie of all time. Hands down. No questions asked.
Image: Disney Channel; Giphy (2)