The 17 Best Movies About Drag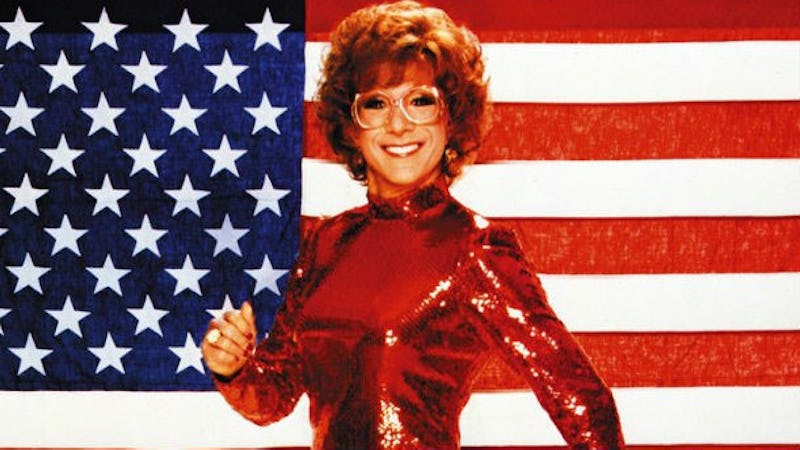 With the new season of RuPaul's Drag Race underway, drag is being given serious attention by flocks of folks who might not otherwise be involved. And while it's always fun to see the glitz and glamor associated with depictions of these performances, it's important to note the political aspect to drag that no one TV show can fully unpack. Drag is about dress-up, yes, but it's also about visibility and gendered transgression. This makes it one of the coolest art forms in the world and pretty darn feminist to me, though many drag performers and queer researchers might want to separate drag from feminism — it's complicated, y'all, but it's worth exploring so you can come to your own opinion. Fortunately, there are tons of movies about drag that feature wonderful narratives for your viewing pleasure.
I chose the movies on this list because they use a style similar to most feature films. And, though this list teeters towards the mainstream, there are plenty of experimental filmmakers producing work that features drag, too. So, whether you're new to this genre or a seasoned vet with a makeup kit in the backseat of your car, consider this list simply a starting point. Movies that feature drag are an important part of cinema and tell us a lot about gender, femininity, and masculinity.
1. Paris Is Burning
This documentary is one of the most important pieces on drag and chronicles the ballroom culture's complicated nuances. And it's on Netflix.
2. Victor/Victoria
Julie Andrews stars in this beloved and jazzy musical about gender-bending and performance.
3. Priscilla, Queen Of The Desert
Named after the trailer a group of drag queens use as they travel across Australia, this major film eventually made its way to the Broadway stage.
4. To Wong Foo, Thanks For Everything
As this trailer suggests, this fantastic movie subverts masculinity in a hilarious way.
5. Tootsie
Another classic film, Tootsie follows Dustin Hoffman as he navigates the television industry as a woman.
6. I Am Divine
This doc tells the life story of John Waters' most famous collaborator and muse, Divine.
7. Venus Boyz
Get to know drag king culture with this amazing documentary.
8. Hairspray
Before the 2007 comedy-musical, there was the filthy, delicious John Waters original, also starring Divine.
9. Man For A Day
This documentary follows actor Diane Torr as she conducts a workshop on gender in Berlin.
10. The Undergrad
Filmmaker Mickey Mahoney recreates The Graduate using drag kings and trans actors. You can watch this one now on Vimeo.
11. Kinky Boots
This sweet movie about shoes, drag, and family shows how community can be found in unlikely places.
12. The Birdcage
A joyful depiction of what happens when families blend, this is my favorite of the late Robin Williams' career.
13. Drag Becomes Him
Fans of RuPaul's Drag Race will recognize the queen at the heart of this gorgeous documentary.
14. Just One Of The Guys
Consider this one a talking piece — it's problematic, but super interesting in its depictions of drag.
15. Connie And Carla
What happens when two straight, cisgender women invade queer spaces? A messy comedy that's fun to watch.
16. Angels In America
The HBO take on Tony Kushner's stunning two-part play about the AIDS crisis will take you on an emotional journey.
17. Lilies
I mean, just look at that gorgeous trailer.
So, what are you waiting for? Get your wig down from the shelf and start exploring this vast genre.
Images: Columbia, Clockwise Productions, Moefilm Productions