15 Perfect Decorations For Your Prom Party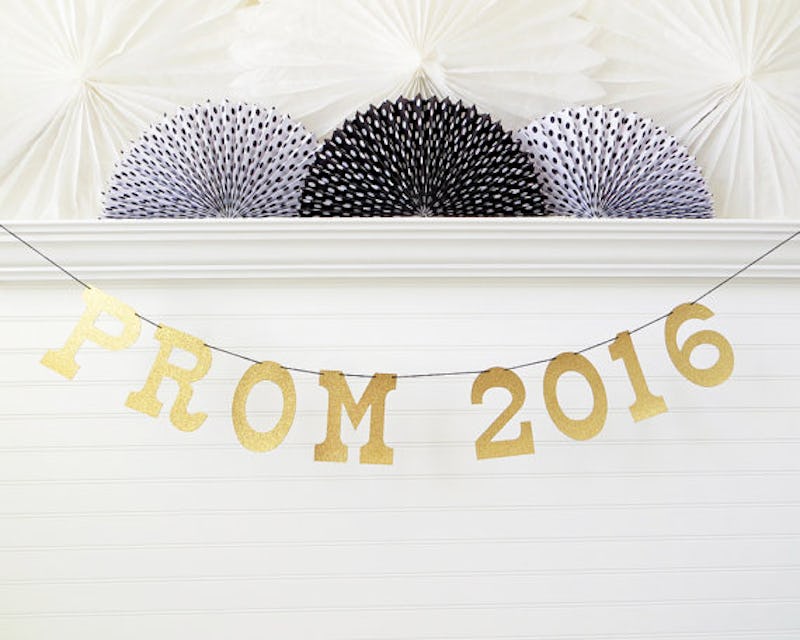 There's no use fighting it — as much as prom may be about the memories, the promposal, and the celebration of the end of high school, it's also about the photo opportunities. And prom party decorations can really add some oomph to your photos, even before the night starts. With a cool set up, your Instagram of you and your date is bound to look even better.
So, you found the perfect prom dress. You asked someone to prom with an epic promposal — or you decided to go to prom with friends, because that's totally cool too. There is so much planning that goes into prom months ahead of time, and as it gets closer and closer, it's time to think about smaller details.
Having a pre-prom party is a great way to ensure you get plenty of photos before heading off to prom itself. Plus, there's nothing quite like riding in a limo to prom. From banners to balloons to plenty of fun photo props, these decorations will make any backyard feel absolutely festive. Stick to one color scheme to make things feel cohesive — gold is always a fail-proof option. Thanks to Etsy, your pre-prom party can look totally unique — and Instagrammable.
1. Prom Balloons
Whether you and your friends hold them up in a photo or you set them in the background, these balloons are picture-perfect.
Prom balloons, $9, etsy.com
2. Disposable Cups
Gotta stay hydrated! These cups make soda and punch extra festive. The lids prevent spillage on your dress, too.
Disposable cups, $9, etsy.com
3. 2016 Glitter Numbers
Celebrate senior year and prom all in one.
Glitter numbers, $35.46, etsy.com
4. Confetti Balloons
What could be better than rainbow-speckled balloons?
Confetti balloons, $12, etsy.com
5. Photo Booth Props
Who says prom photos have to be traditional? Photo booth props spice things up.
Photo booth props, $22, etsy.com
6. Pom Pom Photo Arch
This weather-proof photo arch guarantees magical memories.
Pom pom photo arch, $81.25, etsy.com
7. Jumbo 2016 Confetti
Prop this confetti up on some cupcakes, and you're in for a truly Instagrammable dessert.
Jumbo confetti $8, etsy.com
8. Bunting Banner
Metallic gold accents give this playful bunting a more mature elegance.
Bunting banner, $14.99, etsy.com
9. Tissue Paper Flowers
Giant paper flowers are sure to make any backyard way prettier.
Tissue paper flowers, 22.63, etsy.com
10. Prom 2016 Banner
Hold it in a photo or hang it up outside — this banner says it all wherever you place it.
Banner, $14, etsy.com
11. Heart Confetti
Yes, it is totally possible to make your snack table instantly glamorous. Just add plenty of glitter hearts.
Hearst confetti, $3, etsy.com
12. Gold Glitter Photo Booth Props
Looking for a little more glam? Allow a gold mustache to do the trick.
Photo booth props, $30, etsy.com
13. Giant Clear Balloons
The only thing better than balloons is giant balloons. Weigh 'em down at the end and position them strategically around your pre-prom party.
Clear balloons, $10.33, etsy.com
14. Gold Tassel Garland
With metallic decor, even a suburban backyard can feel totally glamorous.
Gold tassel garland, $16.99, etsy.com
15. Balloon Arch Kit
Making a balloon arch may be an intimidating task, but with a handy kit, you can make one yourself. Get ready for lots of compliments.
Balloon arch kit, $50, etsy.com
Images: Etsy (16)