All The More Reason To See Key And Peele's 'Keanu'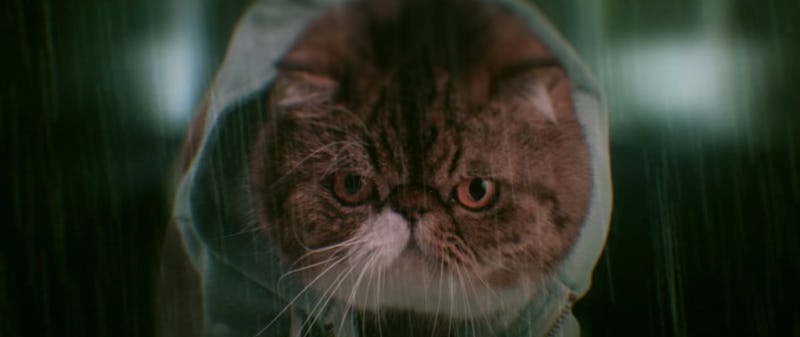 Settling that whole "Is there a benevolent deity?" debate once and for all, Keegan-Michael Key and Jordan Peele have just released an all-feline version of the original trailer for their upcoming film Keanu, in which two men battle against adversity to recover a kidnapped kitten. The all-feline Keanu trailer also functions as a great early Christmas present for friends or loved ones, so feel free to forward this article on.
Keanu drops on April 29 in the United States and is a buddy comedy centering on Clarence (Keegan-Michael Key) and his best friend, Rell (comedian Jordan Peele), who, upon being brutally broken up with, recovers a sense of joie de vivre after he finds the world's most adorable kitten on his doorstep. But life is cruel, and one day, Rell comes home to find his home broken into — and his beautiful kitten gone. The two men will have to get tough and go hang out with some brutal characters if they want to know what happened to Keanu.
I've heard that the two things the Internet is short on these days is cats and GIFs. As such, I felt it was my public duty to remedy this brutal cat GIF shortage by breaking the trailer down for you busy millennials into 12 adorable, shareable GIFs. You're so very welcome.
The Trailer Opens On Tragedy
"Hey man, how are ya?" "Nothing makes sense anymore." "Are you OK?" "Daisy broke up with me," Jordan Peele's cat stand-in sniffs.
But Then!
He's roused from the couch by a plaintive miaow: The kitten finds a tiny kitten! Too meta. Can't process.
He Introduces His New Kitten, Keanu, To Clarence
"Oh my God, that's the cutest cat I've ever seen in my life!" Clarence and the audience say as one.
But Then!
So many twists and turns, I think I just got whiplash: The adorable feline pair return to Rell (Jordan Peele)'s home to find it's been broken into and the kitten has been catnapped.
So They Go To Ask If Rell's Neighbor Saw Anything Suspicious
That Tupac Shakur-style bandana on a cat: Can't. Even. Deal.
Ever Wanted To See A Cat Pole Dance? Because Then This Happens
Almost too much enjoyment in one trailer. Should probably be illegal.
Then Cat Version Of Clarence Can't Stop Himself Asking For A White Wine Spritzer, So Everyone's Like "?!?!?!"
And then Dell has to drop the inappropriate language to reestablish their image as tough street smart men, but don't sweat, the trailer bleeps it all out with meows.
Crazy Gangsters Aren't Less Scary In Cat Form
That aggressive neck movement's got me sweating.
"Why Are You Talking To Me Like That?"
Clarence's girlfriend gives him a reality check when he tries to use his street slang on her. "I talk like that... sometimes," he says meekly.
Then We Discover The Entire Reason Key And Peele Made This Spoof Feline Trailer
Purely to use this pun, right?
No Stuffed Animals Were Hurt In The Making Of This Trailer
I hope, anyway.
Also, There's This
New life goal: living in a world purely populated by cats and stuffed cats.
Want to watch the trailer in full? Check it out.
Now for the sake of comparing and contrasting, try the original human trailer.
I think we can all agree: while the original movie looks awesome, the cat trailer looks just that teensy bit better. Can Key and Peele please remake the movie as soon as possible with just cats? Thank you.
Images: Warner Bros. Pictures/YouTube (13)