The Protests Against Ken Kratz Aren't Happening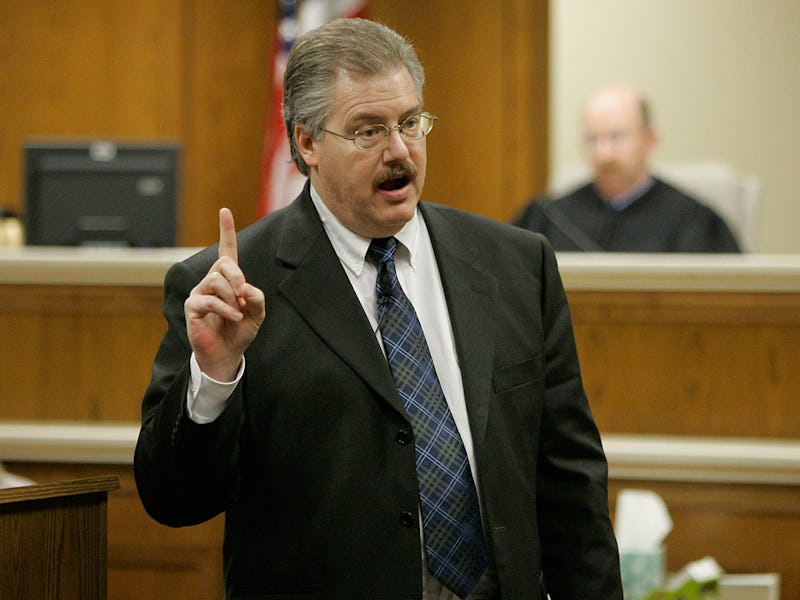 Making a Murderer's most hated villain won't be coming to Illinois after all. Steven Avery supporters quickly organized a protest after news broke that Ken Kratz, the man who prosecuted Avery, would appear in Rockford, Illinois, at an event aimed at giving the former Calumet County district attorney a platform to tell his side of the story. The event was quietly canceled over the weekend, however, with listings for the program pulled from both the venue's website and online box offices. But was it the threat of protest from Avery's supporters that compelled Kratz to change his plans?
Kratz was scheduled to speak May 19 at the Coronado Performing Arts Center during an event titled "Steven Avery: Guilty as Charged." (That name really says it all, doesn't it?) Calls for an organized and peaceful protest outside the event center were led by a Facebook group known as the Steven Avery Project angered over the idea that Kratz, who resigned from his job as prosecutor in 2010 after allegations he sexted a domestic violence victim, might profit from what they called his "corrupt actions."
"We need a large showing for this protest and show that there will be no profits or fame to be made from this injustice," the group said in a Facebook post.
It's unclear, however, if the event was canceled due to the threat of protest or low ticket sales. Tickets, which were priced at a steep $47.50 apiece, went on sale April 9, the Green Bay Press-Gazette reported.
This was hardly the group's first protest. The group had been organizing a protest against the April 26 appearance of Lt. Mark Wiegert and Special Agent Tom Fassbender at an educational conference in Naperville, Illinois, but that appearance was also canceled. The two law agents had played a substantial role in obtaining Brendan Dassey's confession.
It's no secret Kratz continues to have zero doubts about Avery being Teresa Halbach's killer. He's been a vocal critic of Making a Murderer since its Netflix debut. "It's not a documentary at all," Kratz said of the Netflix series in an interview with The New York Times published in January. "It's an advocacy piece." Kratz has maintained his stance that filmmakers Laura Ricciardi and Moira Demos withheld significant evidence in order to present a one-sided account of Avery's trial.
The event was billed as "an unusual means by which the public will have the opportunity to hear the other side of the case," by local Illinois news outlet My Stateline. In promotions for the event, which was also slated to feature Fox News legal analyst Jeanine Pirro, it was teased Kratz would share "never before seen evidence" left out of the Netflix documentary to give debate over the case "new perspective."
Image: Netflix