Ornate Bags & Bracelets For Your Next Wedding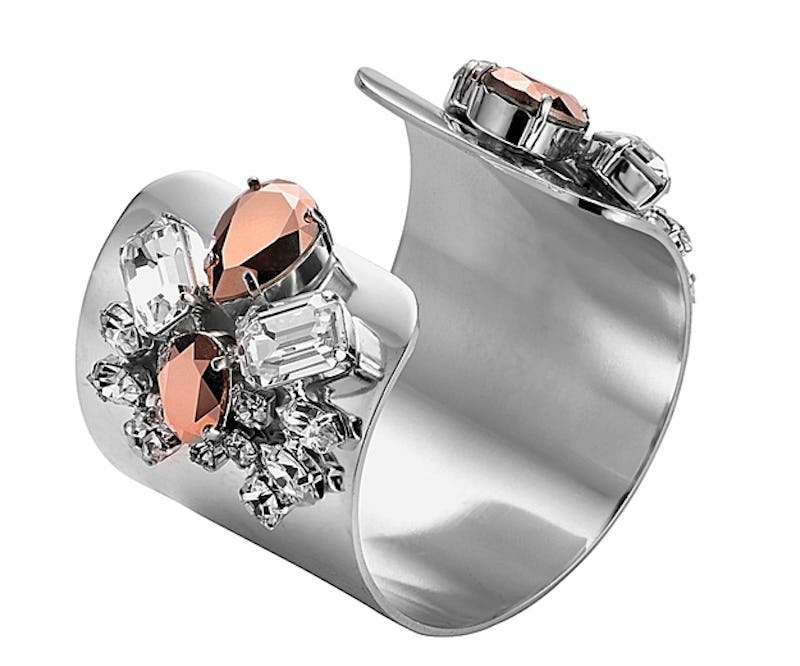 So you've just received an invite for your third wedding this year and you're starting to panic. You may have already sourced gorgeous gowns for these celebrations, but beautiful accessories for weddings are another story. Special occasions are pretty difficult to dress for at the best of times, but weddings can be even more of an arduous task to find the perfect ensemble.
If you've been asked to attend multiple weddings this year, you might also be worried about the impact these invites are going to have on your bank balance. You might need to delve into your closet to recycle your old faithful occasion dress and breathe a new lease of life into it with enchanting accessories. On the other hand, instead of buying three new outfits, you could buy one and mix it up with different clutch bags and cuffs, so you have a different look for each wedding. So here's some ornate arm candy that won't leave you broke, so you can give your bank account a breather.
1. The Floral Wristlet
Asos Big Flower Embellished Grab Clutch Bag, $62, asos.com
Flowers are never out of place at a wedding and this beautiful, contemporary clutch is sure to add the "wow" factor to your look.
2. The Bedazzling Clutch
Wade, $65, aldoshoes.com
Razzle dazzle 'em with this statement clutch – it's sure to distract from the fact that you've worn the same dress twice.
3. The Rosy Cuff
Mews London Large Rose Silver Cuff, $319, wolfandbadger.com
This cool cuff fuses masculine and feminine elements to create a decadent arm embellishment.
4. The Pretty Nude Clutch
Vintage Styler Box Clutch With Floral Brooch Detail In Nude, $68, asos.com
Pick a purse in a nude or monochrome color scheme to ensure it goes with any outfit.
5. The Beaded Purse
Eloise – Silver Petal Beaded Clutch, $95, dunelondon.com
There's nothing more elegant to accompany your evening wear than an all-over beaded handbag.
6. The Charming Timepiece
Sterling Silver Art Nouveau Repousse Style Cuff Bracelet Watch, $169, etsy.com
Make it to the church on time with an exquisite, vintage watch. This floral design features a mother of pearl watch face and will add an ethereal vibe to your outfit.
7. The Flapper Bag
Iconic By UV Vintage Style Silver & Black Hand Beaded Flapper Purse, $68, unique-vintage.com
Try something new, that's inspired by something old. This flapper themed purse will add a vintage vibe to your ensemble, without it looking outdated.
8. The Thrifty Feather Cuff
Burnished Feather Hand Cuff, $3.90, forever21.com
If you're looking for something unique, that doesn't cost the world, this whimsical feather hand cuff ticks all the boxes.
9. The Modest Box Clutch
Johnny Loves Rosie Exclusive Square Box Clutch Bag, $42.26, johnny-loves-rosie.com
This spearmint green box clutch will make a wonderful addition to the outfit of someone who's searching for a sprinkle of understated bling.
10. The Quilted Clutch
Love Moschino Quilted Ivory Heart Clutch, $209, asos.com
Wear your heart on your sleeve this wedding season with a quilted heart clutch.
11. The Thorny Clutch
Bed Of Roses Thorn Chloe Clutch, $645, luluguinness.com
Designer handbag fans are sure to love this edgy clutch that's inspired by roses. It would make a great match for a woodland ceremony or a black tie themed wedding.
12. The Great Gatsby Style Cuff
Art Deco Cuff, $32, etsy.com
Attending a 1920s inspired wedding or a reception themed on The Great Gatsby ? This cool cuff will work perfectly. Wear it with a modern ensemble to give your look a retro edge.
13. The Opulent Shell Bag
From St Xavier Gold Shell Clutch Bag, $107, asos.com
For folks wanting to really push the boat out, opt for a decadent, golden clutch bag like this shell shaped style, which will look fabulous worn to a nautical themed wedding.
Marie Antoinette got it all wrong; you definitely don't have to spend a fortune to look super glam! It's totally possible to have your cake and eat it when it comes to finding sophisticated arm candy that doesn't break the bank.
Images: Courtesy Brands