Kathryn & Jennifer Met Through Thomas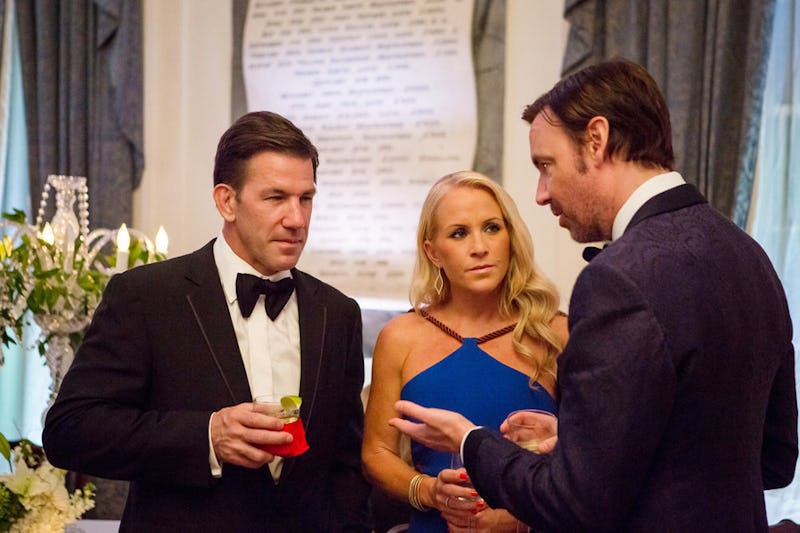 I officially can't get enough of Southern Charm. It only gets better with each successive season. The Charleston crew's drama has been reaching galactic levels lately and it seems to all revolve around Kathryn and Thomas. Those two just can't seem to get it together. Lately, since Kathryn and Thomas have broken up, Kathryn is completely on the outs with almost everyone in the group. Luckily, she does have a good friend in Jennifer Snowden. So, how did Jennifer and Kathryn meet on Southern Charm? They actually have someone pretty important in common.
Oddly enough, Thomas Ravenel kind of brought these two unlikely pals together. If you were watching the second season of Southern Charm, then you probably remember a highly anticipated dinner gathering hosted by Thomas, where everyone assumed he was announcing his intentions to marry his baby mama, Kathryn. Instead, he announced his intentions to run for office. Super epic letdown but that's neither here nor there. During that dinner, a mysterious blonde woman walked in and Kathryn almost lost her mind. It didn't take a body language expert to decipher what was on Kathryn's mind. She was definitely visibly angry. We soon learned that the blonde was Jennifer Snowden and that she and Thomas had been texting quite a bit, much to Kathryn's chagrin.
During the dinner, there was a little bit what seemed like flirtation between Thomas and Jennifer. At one point he said that she had spent a lot of time in his bed and then followed it up with, "Just kidding!" Not super funny when your girlfriend/mother of your child is sitting at the table. I was personally curious to see what went on with Jennifer and Thomas because things seemed fishy from the jump.
Viewers later got to witness a meeting between Kathryn and Jennifer that Kathryn had initiated. She, like us, wanted to know what the nature of this woman's relationship with Thomas was. Jennifer denied any wrongdoing or romance between them but did say that he texted her often while Kathryn was pregnant. The two seemed to bond over this conversation and we soon saw them show up to events together. Flash forward to this season and the two of them are inseparable. They have clearly formed a serious bond and it was even revealed that Jennifer admitted to hooking up with Thomas but only when he had told her he was single, however that didn't ruin their friendship.
I guess it makes sense that two women who put up with the same man would form somewhat of a special bond. Although unintentionally, it looks like Thomas has done one thing right in introducing them, I suppose!
Images: Paul Cheney/Bravo