Derek Proves He's Trouble On 'Jane The Virgin'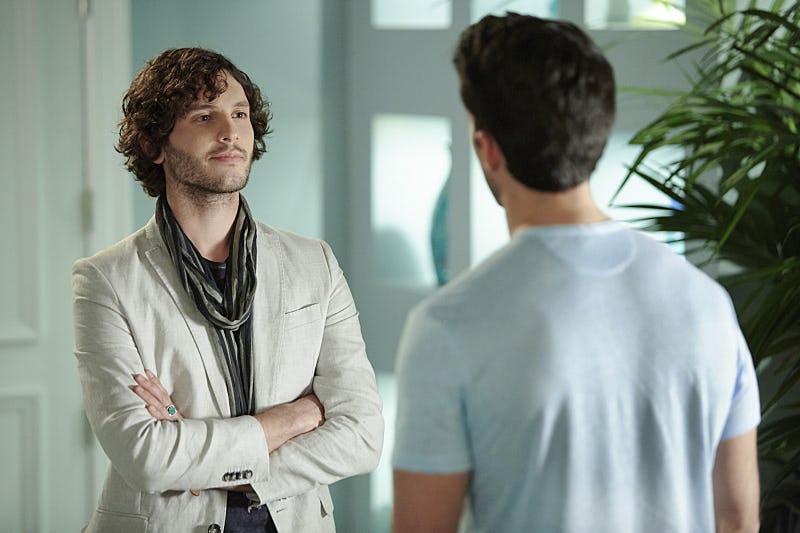 We've known for a while to be suspicious of Rafael's brother, Derek, on Jane the Virgin and Monday night's episode solidified this theory. After Petra rightfully shamed Rafael for continuing to lie whenever he feels backed into a corner (preach, girl!), he decided to come clean with Derek about how he'd be working with the police when they first started connecting. It was before he got to know and trust him, so he wanted to come clean as an apologetic gesture. Initially, Derek appeared to accept Rafael's apology, however, as soon as he left and got on the elevator he made an ominous call to someone, saying, "It's a go. Let's take him down." So what exactly is Derek planning and who was it on the other side of his phone?
My instincts want to state the obvious and say that the "him" in that sentence is in reference to Rafael and the person Derek's talking to is none other than his mother, Elena aka Mutter. But when has this show ever been predictable? So there's a chance that not all is precisely as it appears. Let's not forget that Derek has been hanging out with Rafael quite a bit now, so he's undoubtedly aware of Michael's existence. It could be possible that he managed to put together that Rafael had been spying on him on Michael's orders, which means he could be the target they intend on taking down.
Am I being a little paranoid? Perhaps. But I just can't seem to shake the fact that Michael is in grave danger. Ever since we saw that stalker taking photos of him, I've had a bad feeling of where this storyline could be going. And now that Rafael is naively buying all of Derek's lies, he'll have an inside look at everyone Rafael is in close contact with. So whether it's Rafael or Michael who's in danger, the point is that we were right in not wanting to trust Derek. He's up to something and whatever it is could come with some deadly consequences.
Image: Tyler Golden/The CW