The 'GoT' Cast Gives The Theme Tune Some Lyrics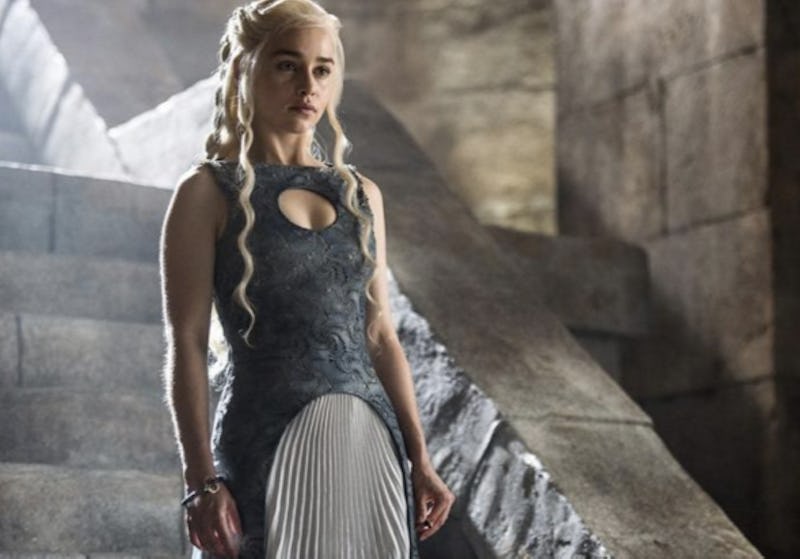 As if finally getting to watch Season 6 of Game Of Thrones wasn't exciting enough, the cast shared something extremely important with the world on Tuesday. In a video posted by Entertainment Weekly, several members of the Games Of Thrones cast discuss the fact that the theme tune to their show doesn't have any lyrics. Because the cast are multi-talented performers, they take it upon themselves to ad-lib some new lyrics for the Game Of Thrones theme tune, and the results are hilarious. Plus, there's some interpretative dance thrown in, because why not? Not only will the video make you wish that the theme tune to your favorite show had lyrics, you'll end up singing the cast's suggestions, because they're catchy as hell.
Maisie Williams, who plays Ayra Stark, starts the video by saying, "I have some lyrics I think would go wonderfully with the Game Of Thrones theme song." The video then masterfully cuts to Gwendoline Christie, who plays Brienne of Tarth, doing an awesome dance, which is probably a lot like the dance you do around your room when the Game Of Thrones theme tune starts playing. Tell me I'm wrong. Williams says that she thinks her lyrical contributions sum up the show perfectly, and I couldn't agree more. Here are some of the best lyrics for the Game Of Thrones theme tune as suggested by the cast.
Sophie Turner, who plays Sansa Stark of course, is the first to share her suggested lyrics. She sings, "There's Ayra, then there's Sansa, then there's... others!" while trying to list as many Game Of Thrones characters as possible. Turner's lyrics are certainly easy to remember, although what happens when a character inevitable gets killed off? Does their name get removed from the theme song? Emilia Clarke is next, reciting her lyrics while she leans against a wall looking totally chill. She says, "Because it's all about the dragons, about the dragons, no men," in reference to the true passion of her character. What's not to love about dragons, right?
Williams is next, and she doesn't disappoint. "Death and death and boobies, death and boobies, death and boobies," she sings, telling us that the lyrics would be repeated right until the end of the song. Williams's lyrics are both super memorable, and totally fitting for the show. Gwendoline Christie wraps up the video by saying, "That was just some interpretative dance, no words." Still, it was some pretty powerful stuff. This is clearly proof that the theme needs lyrics added to it immediately, and here is me begging that the cast performs the lyrics in character. Because as funny as this video is, it can certainly get funnier.
Image: HBO