Will The 'Fantastic Beasts' eBook Be In Hardcover?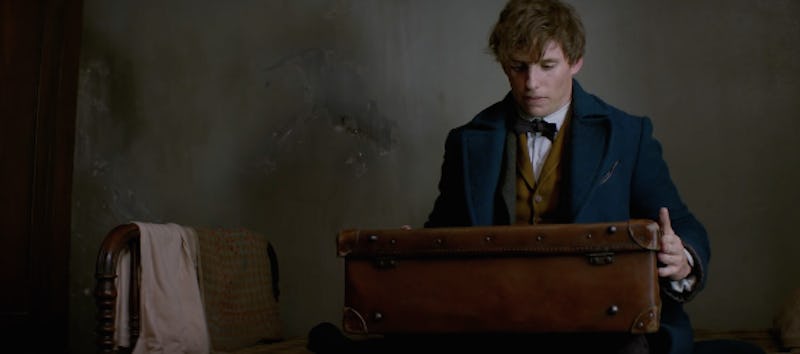 If your Harry Potter movie cravings are waiting to be satiated by the upcoming Potter-universe film Fantastic Beasts And Where To Find Them , we may have a small morsel of news you can sink your teeth into. J.K. Rowling is releasing the official screenplay for Fantastic Beasts And Where To Find Them ... but the "how" behind how she's doing it is a bit peculiar. Rationally, one might wonder if the Fantastic Beasts screenplay will be published as a book for us to consume old-school style, but it's a little more unconventional than that.
OK, maybe it isn't unconventional for Potterheads who have gotten used to Rowling dolling out information about the world she's created through the magic of technology. The screenplay for Fantastic Beast And Where To Find Them will be published as a sort of e-book on Pottermore on November 19, which incidentally is the day after the film's November 18 debut. "But I stopped using Pottermore like three years ago, Mary Grace!" I know, dude, me too. So what about a physical copy, one with pages that you can turn in your hands? Don't worry, Scholastic confirmed that they'll be releasing a hardcover copy of the Fantastic Beast And Where To Find Them screenplay.
This is a major sigh of relief Harry Potter fans who grew up with the comfort of books, and, in fact, probably got back into books due to the addictive draw of the series. I mean, in 2016, it's certainly not off-brand for Rowling to use digital methods to expand on the world of Potter. It's mainly why certain people stick around for new Pottermore updates. However, there's something great about using those traditional methods to connect to the Potterverse... now if only we didn't have to wait until after the movie comes out.
Well, if you're feeling a bit impatient, there is the next best thing to tide you over. If it tickles your fancy, you can pick up the 2001 book version of Fantastic Beasts and Where to Find Them , authored by Rowling in the voice of Newt Scamander (with fun little doodles on the pages!). Though time will only tell, the mock-textbook might give you a vague preview of the movie before you get to theaters (and yes, before you read the screenplay, through pages or on your tablet). What's especially sweet is that Rowling originally wrote the book for charity, so to this day a portion of the profits will help fund Comic Relief, an organization that uses entertainment to aid poverty-stricken individuals.
I guess ultimately there are endless ways to crack into the world of Harry Potter, and certainly nobody is going to deny that both the internet and bringing Rowling's stories to the cinema has helped. Still, although we're stoked for Fantastic Beasts And Where To Find Them, to learn about Scamander, the North American wizarding world and, you know, fantastics beasts, let's never forget about what first brought us here: books.
Images: Giphy (2)