See JoJo's Official Photos As 'The Bachelorette'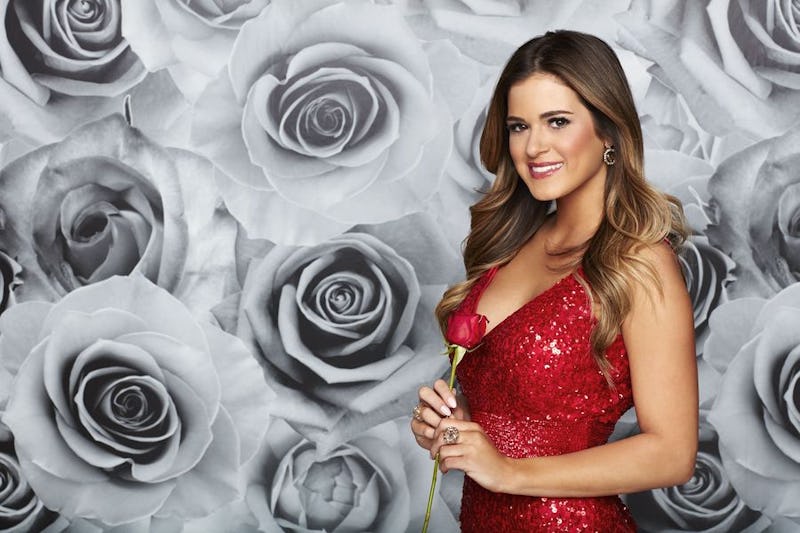 It's time to officially get excited, Bachelor Nation, because the first official photos of JoJo Fletcher as The Bachelorette are here, and that means there is only so much longer that we all have to wait before Fletcher faces a group of 28 men and makes our Monday nights wonderful again. And trust me when I say that these photos are as spectacular as JoJo herself. She is absolutely radiant in them — but the most exciting thing that these images signal is the end to all of our waiting. It's almost time for the new season of The Bachelorette, and that — in addition to these amazing photos — are well worth celebrating.
I mean, just look at this girl. These first official photos show a JoJo far from heartbroken. After falling in love with Ben Higgins, the previous Bachelor from Season 20, and being dumped rather shockingly, JoJo looks completely unfazed by the turn of events. After coming in second for Ben's heart, it was announced that JoJo would be the next Bachelorette. And after a dramatic 20th season of The Bachelor, in which Ben Higgins said "I love you" to two women (for the record, usually the Bachelor or Bachelorette abstains from saying those very important words until a proposal has been made), it's only right that JoJo gets a second chance at love. And if she does it with as much class and charisma that these pictures radiate (and I'm sure she will), then even better.
Because, honestly, JoJo has never looked better. She is vibrant in a red sequin dress against a black and white backdrop. The color of her dress, of course, matches the color of that infamous Bachelorette rose perfectly. Seriously, in these photos, it looks like this girl was made to be The Bachelorette.
So enjoy these first official photos of JoJo as The Bachelorette and get excited for what is sure to another season full of love, drama, and a whole slew of first dates that will make you feel terrible about your love life.
Image: ABC/Craig Sjodin (8)