Eileen Is A Broken Record on 'RHOBH' Reunion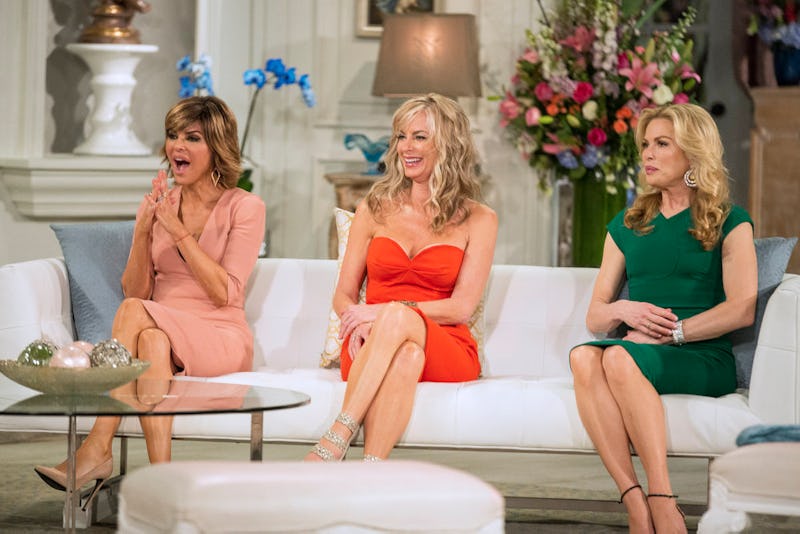 Tuesday night, on Part 2 of The Real Housewives of Beverly Hills reunion, things were pretty frustrating. It felt like we were back to square one talking about Yolanda's health and then watching Lisa Rinna and co. attack Lisa Vanderpump. I was starting to get really sick of Eileen's shenanigans during the regular season but after this reunion, I realized that I just can't watch Eileen Davidson anymore. She is such a fire starter and not in an entertaining way. If we have to hear about her need for a Vanderpump apology and how LVP's original 400 apologies were not sincere enough, I will lose it. Eileen needs to move on and stop creating drama.
Of course the ladies brought viewers back to the conversation during the season between Lisa Vanderpump and Eileen, where LVP asked Eileen about how she met her husband and Eileen was offended because LVP used the term, "affair." For her part, LVP said later in her Bravo blog that she meant "love affair" and felt she was misunderstood. But, after the initial fight, it seems there just wasn't anything that LVP could have done or said that would have satisfied Eileen.
Why would you want someone to apologize to you, if they don't mean it? LVP doesn't think she did anything wrong (and neither do I), so of course her apology is going to be insincere. Eileen needs to stop trying to force sincerity, put on her big kid pants and move on. She just kept right on going even when LVP was being calm, cool and collected.
The part that really frustrated me was when LVP tried to explain that she didn't mean to offend Eileen and Eileen chose to giggle along with Lisa Rinna instead of listening. Here she was harping on the fact that she wanted sincerity from LVP and then when she was getting it, she chose to be immature about it. Here's hoping she can redeem herself in the final part of the reunion.
Images: Isabella Vosmikova/Bravo