Steven Avery Has A Complicated Family Tree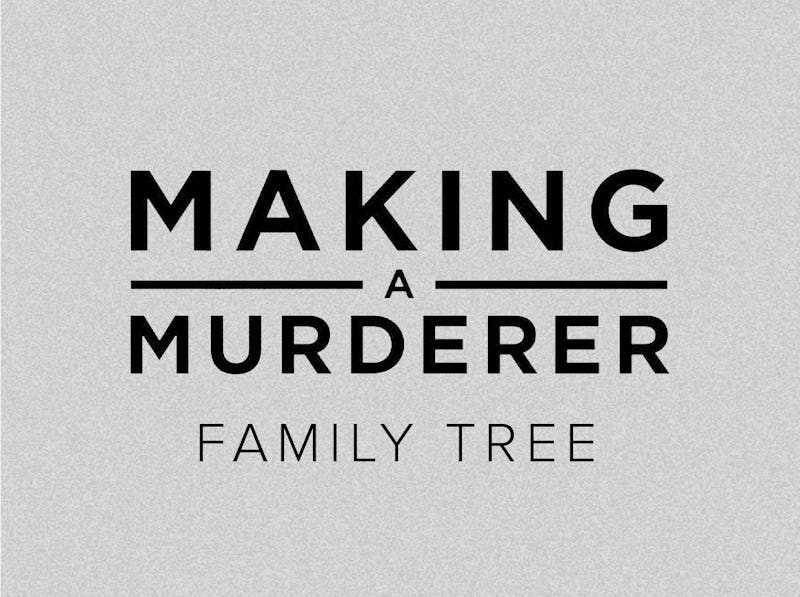 When watching Making a Murder, you might have found it hard to keep everyone straight all the time. Now that it's been a few months, it's even harder. Throw in a few divorces, marriages, and severed engagements, and things get even more confusing. Luckily for you, Bustle has created a Steven Avery family tree which explains how everyone over in Manitowoc County is related, was related, or was about to be related. Plus, this can help you figure out who all has been involved in both Avery and his nephew Brendan Dassey's defense and prosecution.
Avery, as you probably know, is serving a life sentence for the murder of Theresa Halbach. The case against him and his trial were the focus of the docuseries, which premiered on Netflix in December. When Halbach was killed, Avery had only been out of prison for two years. Before that, he was in prison for a sexual assault that he didn't commit, until DNA evidence exonerated him. But before even that, he was a son, husband, brother, and father in rural Wisconsin. His parents, Alan and Dolores, operated the salvage yard on their property as he grew up.
Avery married Lori Mathieson in 1982, when she was a single mother. Together they raised her son Jason, and then they went on to have four more children before Avery went to prison in 1985. The kids were Rachel, Jenny, and twins, Steven and Will. They were all quite young when he served his first 18-year prison sentence. Their marriage didn't thrive with Avery in prison. They divorced in 1988, and then things turned ugly. Avery sent her threatening letters, and he claims that she threatened him too. Years later, when Avery was charged with Halbach's murder, a local newspaper, The Post Crescent, reported that four of the five kids didn't have anything to do with their father.
Interestingly enough, Lori then married Brendan Dassey's father, Peter Dassey. Brendan is the other one in the clan serving time for Halbach's murder. He is Avery's nephew — yes, Lori married her ex-brother-in-law — and he confessed to raping and murdering Halbach, a big part of the prosecution's case. At the time he was just 16, and has a learning disability, causing some to question his confession. Brendan is currently appealing his conviction.
There are others in the family, too. Avery has three siblings — two brothers in addition to Brendan's mom, Barb. His niece, Carla, the daughter of Chuck Avery, has been active on social media in support of her uncle and cousin. As of late, she has posted some family photos from prison — both of Brendan and Steven.
That brings us to the lawyers and law enforcement involved in the case. Avery is on his third set of lawyers, who are now representing him in the hopes of an exoneration. Kathleen Zellner came on board in January, along with the Midwest Innocence Project's Tricia Bushnell. Dassey's lawyers are probably less familiar. The Manitowoc and Calumet County officials will ring a bell, of course.
As you read more updates about the case — or better yet, study up for some potential season two viewing — check back and refresh how everyone is connected. There's a lot of names.
Image: Celia Darrough/Dawn Foster