Captain America Vs Iron Man: Who'd Win In A Fight?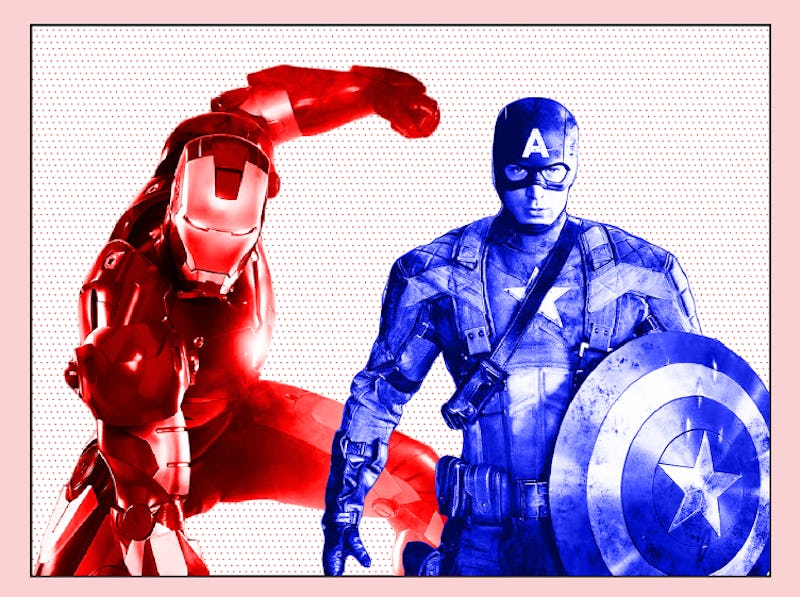 Captain America: Civil War features a lot of superheroes; more than any other Marvel movie to date. And most of those heroes get to fight each other in the film, which leads to some intriguing match-ups. Who's gonna win between the metal-armed Winter Soldier and the vibranium-suited Black Panther? Will War Machine or Falcon take the battle of the sky? Which powerhouse will come out on top, Vision or Scarlet Witch? Yet while those are all fun to debate over, the big question at the center of Captain America: Civil War is who wins, Captain America or Iron Man?
In case you're wondering why the two heroes are fighting in the first place, the reason is twofold. In Civil War, the United Nations ratifies a document called the Sokovia Accords, which would put the Avengers under their jurisdiction. Iron Man is in favor of signing the accords, but Cap opposes them. The second part of their argument has to do with Cap's friend, Bucky, AKA the Winter Soldier. He resurfaces and is blamed for a new terrorist attack, and while Iron Man wants to arrest him in accordance with the law, Cap wants to find him first and see if the Bucky he knew years ago still exists within him.
So now that you know why their fighting, let's take a look at who could actually win the battle. Here's how Cap and Iron Man stack up against one another.
Images: Walt Disney Pictures; Caroline Wurtzel/Bustle