There's Finally Going To Be A Loyalty Program Here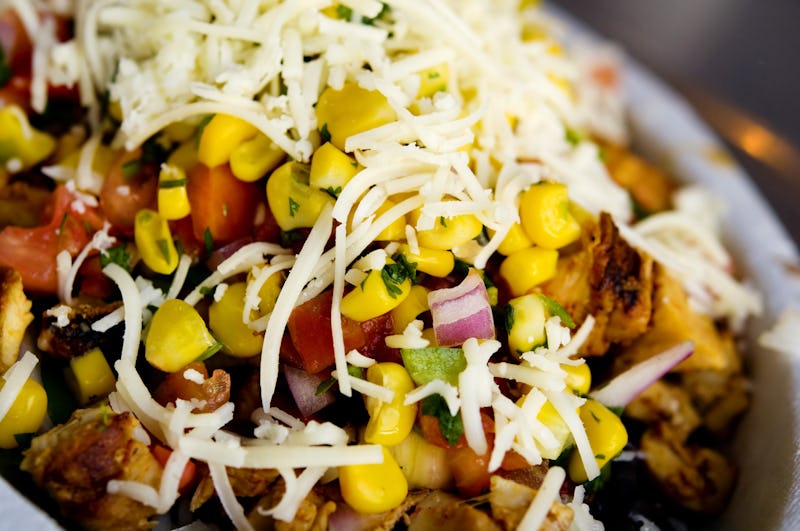 Good news for burrito lovers everywhere: Chipotle is rolling out a loyalty program — and honestly, it's kind of surprising that it hasn't hitherto had one. Plus, new menu items are on the way, too. So get excited, Chipotle fans!
It's true that Chipotle has had a rough couple of months; outbreaks of e.coli at Chipotle restaurants in 2015 resulted in an investigation by the Centers for Disease Control and Prevention (CDC). Chipotle coorperated completely with the investigation, though, and on Feb. 1, 2016, the CDC reported that the beloved burrito chain had been cleared. In the aftermath, the company shut all its stores nationwide for several hours on Feb. 8 for a food safety seminar. But despite John Oliver's hilariously pessimistic take on our willingness to risk illness in the interest of faux-Mexican food, some customers remain reticent to go to Chipotle, even when it's completely safe to do so — which is why the company has been making efforts to rebuild good will with its customers through things like free burritos.
The latest olive branch extended to customers? Cue: A loyalty program and a new chorizo option. Only time will tell whether these ideas will be a hit, but they're still worth noting in the meantime.
So what will this loyalty program look like? Thus far, details are sparse, with no official information on the company website yet; however, it does appear the program is intended to only be temporary. "[W]e are exploring a limited-time frequency incentive designed to reward our most loyal customers for eating frequently at Chipotle this coming summer," Mark Crumpacker, Chipotle's Chief Creative and Development Officer, reportedly explained on a quarterly earnings call, according to Thrillist. "Additionally, we are considering adding menu items that will appeal to our loyal or lapsed customers."
The menu items in question seem a bit more concrete than the details of the loyalty program — namely, chorizo. And it's about time, I have to say. Chipotle already offers vegetarian sofritas, which started out as a chorizo substitute (and is sort of reminiscent of chorizo if you close your eyes)... but let's be honest: There's no true substitute for actual chorizo. Chipotle did test out offering chorizo last summer in Kansas City, but there never was a national launch. There's no official word yet on when chorizo might be hitting the counter at a Chipotle near you, but it does seem you have that to look forward to.
So: Will people be returning to Chipotle? Among Chipotle's formerly most loyal customers — people who went to Chipotle more than 25 times a year, aka more than twice a month — 57 percent haven't been in a Chipotle in the past three months, said Crumpacker, up from 49 percent prevously. Whether or not a loyalty program or the promise of spiced porky goodness can entice them to return remains to be seen, but they're a step in the right direction.