Here's Hoping Gigi & Zayn Make It To The Met Gala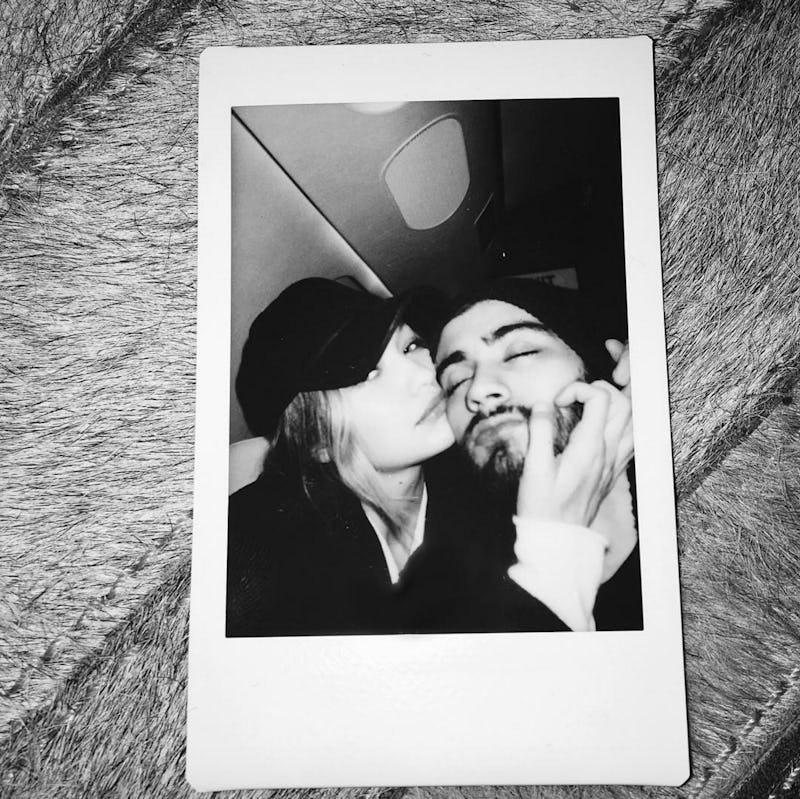 Zayn Malik and Gigi Hadid — while they don't exactly make for the best joint couple name (Zay-gi or Gi-ayn) — make a pretty fashionable duo that I am willing to bet will attend the 2016 Met Gala. But will they be attending May 2's event together? If so, it means Gigi Hadid and Zayn Malik will walk the red carpet together for the first time. Yep, that's right: Although the couple has graced the pages of Vogue together in a romantic 14-page spread, they have yet to be photographed on any red carpet as a couple.
While Hadid arrived at the 2015 Met Gala with fellow model and friend Karlie Kloss, she posed for pics on the red carpet with a crew composed of Kendall Jenner and her sister Bella Hadid. Since her model squad seems to be girls only, it's quite possible that the 21-year-old will attend the event sans Malik. But that doesn't mean he won't be in attendance at all. In fact, he isn't slated for his next performance until May 14, when he'll take the stage with Demi Lovato and Ariana Grande in California.
It has yet to be confirmed whether Malik or Hadid will be going to the festivities at the Metropolitan Museum Of Art (given the gala's super secret guest list), nor do we know who the performer of the night will be. But seeing as Malik recently released his debut solo album Mind Of Mine and was featured in Vogue's May issue, there is a possibility that he could be the main entertainment for the night. One can hope, anyway.
Being that the 2016 Met Gala theme is "Manus x Machina: Fashion In An Age Of Technology," it would be fun to see the fashionable duo walk the red carpet in coordinated high-tech outfits. After all, they are both fashion risk takers, and it's about time we have another Britney Spears and Justin Timberlake denim moment — or rather, a Gigi Hadid and Zayn Malik high-tech moment.
Hadid is never one to run from a fashion risk, so I can't wait to see how she will embrace the high-fashion and high-tech theme. If her current looks are any indication of what she will wear come Monday night, then I assume she will be decked out in a dress that shows a lot of skin, sports a few cut-outs, or is made out of sheer fabric.
Malik, while a fashion risk-taker as well, tends to go for well-tailored garments that pack a punch with the details. He is also one who likes to mix up his hair game, so perhaps he will sport a newly colored 'do come the gala.
While it is not yet confirmed whether either Hadid or Malik will be attending the Met Gala on Monday night, the event is famous for its exclusivity, so it is highly probable that they with both be in attendance. As for them arriving together, I am not so sure. After all, Taylor Swift is co-hosting and being that Hadid is part of her squad, she might be arriving with a girl gang of sorts.
Whether they choose to go solo or together, one thing's for sure: They'll make one ridiculously good-looking couple.