15 Quotes About Falling Out Of Love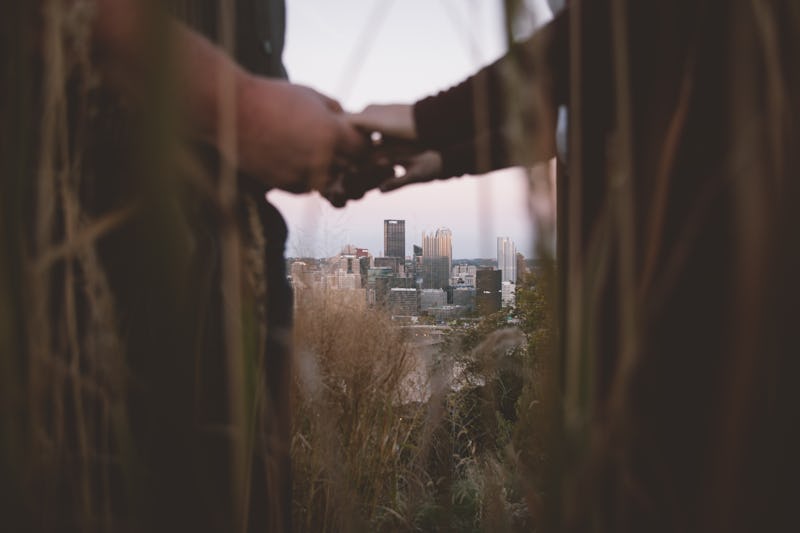 There's nothing more magical than the feeling of falling in love — and there's nothing more heartbreaking than falling out of it. It isn't easy to put into words the sadness, heartache, and conflicting emotions behind it, but these book quotes about falling out of love have perfectly captured how we all feel when we lose that loving feeling.
Falling in love is all rainbows and butterflies, but eventually, the clouds roll. Falling out of love is a roller coaster ride of emotion, from doubt to anger to despair, and it isn't always easy to explain what it's like, despite how universal of an experience it is. Sometimes, the best way to get through something is to read about someone else who is going through the same thing.
When I went through my first major break up in high school, I listened to a lot of K-Ci and JoJo, watched When Harry Met Sally daily, and kept my JanSport backpack stuffed with chocolate. Yes, it was very dramatic, and no one seemed to understand — not my parents or my sisters or even my best friends — better than Elizabeth Wakefield, the heartbroken heroine of Francine Pascal's Sweet Valley High spin off, University Interrupted. Reading about someone else falling out of love made be feel like I wasn't alone, like someone else had been through this already, and I knew if Elizabeth could survive a cheating boyfriend and a backstabbing sister, than I could survive anything.
Everyone has been there, including these authors and book characters whose quotes about falling out of love are words we can all relate to.
1. "I loved her for so long. Our past trails behind us like a comet's tail, the future stretched out before us like the universe. Things happen. People get lost and love breaks."
― Jonathan Tropper, This is Where I Leave You
2. "That's life for you. All the happiness you gather to yourself, it will sweep away like it's nothing. If you ask me I don't think there are any such things as curses. I think there is only life. That's enough."
― Junot Díaz, The Brief Wondrous Life of Oscar Wao
3. "There's always a moment when you start to fall out of love, whether it's with a person or an idea or a cause, even if it's one you only narrate to yourself years after the event: a tiny thing, a wrong word, a false note, which means that things can never be quite the same again."
― Douglas Adams, The Salmon of Doubt
4. "Well, nowIf little by little you stop loving meI shall stop loving youLittle by littleIf suddenly you forget meDo not look for meFor I shall already have forgotten you"
― Pablo Neruda, Selected Poems
5. "There was a time when I thought I loved my first wife more than life itself. But now I hate her guts. I do. How do you explain that? What happened to that love? What happened to it, is what I'd like to know. I wish someone could tell me."
― Raymond Carver, What We Talk About When We Talk About Love
6."The only thing more unthinkable than leaving was staying; the only thing more impossible than staying was leaving. I didn't want to destroy anything or anybody. I just wanted to slip quietly out the back door, without causing any fuss or consequences, and then not stop running until I reached Greenland."
― Elizabeth Gilbert, Eat, Pray, Love
7. "And then the dreams break into a million tiny pieces. The dream dies. Which leaves you with a choice: you can settle for reality, or you can go off, like a fool, and dream another dream."
― Nora Ephron, Heartburn
8. "The emotion that can break your heart is sometimes the very one that heals it."
― Nicholas Sparks, At First Sight
9. "Apparently, something can happen inside someone you love—it can just happen somehow—and like magic she thinks that she's had enough, and that the way the two of you have been for a really long time is no longer worth the effort. Does that sound familiar to anyone."
― Meg Wolitzer, The Uncoupling
10. "You don't know when you're twenty-three.You don't know what it really means to crawl into someone else's life and stay there. You can't see all the ways you're going to get tangled, how you're going to bond skin to skin. How the idea of separating will feel in five years, in ten - in fifteen. When Georgie thought about divorce now, she imagined lying side by side with Neal on two operating tables while a team of doctors tried to unthread their vascular systems.She didn't know at twenty-three."
― Rainbow Rowell, Landline
11. "[Their love] had burned itself out, like a forgotten candle in an empty room, leaving behind a ravenous discontent.""[Their love] had burned itself out, like a forgotten candle in an empty room, leaving behind a ravenous discontent."
— Paolo Giordano, The Solitude of Prime Numbers
12. "I guess that's what saying good-bye is always like–like jumping off an edge. The worst part is making the choice to do it. Once you're in the air, there's nothing you can do but let go."
― Lauren Oliver, Before I Fall
13. "We walked to meet each other up at the time of our love and then we have been irresistibly drifting in different directions, and there's no altering that."
― Leo Tolstoy, Anna Karenina
14. "When one is in love, one always begins by deceiving one's self, and one always ends by deceiving others. That is what the world calls a romance."
— Oscar Wilde, The Picture of Dorian Gray
15. "You can't look back - you just have to put the past behind you, and find something better in your future."
― Jodi Picoult, Salem Falls
Images: Jen Palmer, Vincentiu Solomon , Alex Wigan, Tristan Colangelo/Unsplash; Pexels (3)