The 'Gilmore Girls' Revival Is Almost Done Filming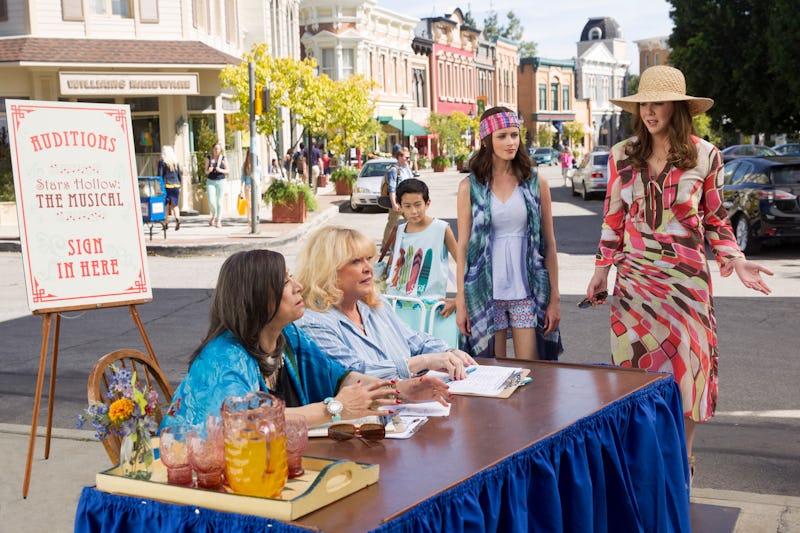 It goes without saying that Lauren Graham is the center of the Gilmore Girls universe. I know some people might argue that Alexis Bledel and Kelly Bishop should be included in that title as well, but throughout all seven seasons of Gilmore Girls, it was Graham who always seemed like the center of the Gilmore world, the lynchpin connecting Emily and Rory and the person who brought Stars Hollow together. So when Graham announced via Twitter that Gilmore Girls is almost done filming and she wraps up her part in Stars Hollow, I immediately wondered if this means we've got a better idea of when the Gilmore Girls revival will premiere.
There are just 10 days left on set as of April 27, and, honestly, I was sort of shocked to hear that she has so few days left on set. With a premiere date of at least sometime in 2016, I was hoping somehow the production and all the little spoilery tidbits that come along with it, would just run right through the year until the series, but fine. I guess that's an unrealistic expectation. But with the lead of the show saying that she's just days away from calling it a wrap, it's time to start really focusing on that premiere date.
I mean, sure, there is that whole post-production process to get through, but it's not like they're going to be animating dragons to add into the sky over Stars Hollow. Post-production can't take that long, right? Especially since so much is already in place: Sam Phillips has signed on to bring back the la la's and Netflix already released a number of publicity shots in an exclusive Entertainment Weekly article for starters. Plus, Sherman-Palladino and Co. have to be a well-oiled machine after seven seasons of the original series, right? I have a feeling the process of getting the series to our TV screens will be a relative breeze for the creative team.
Of course, there's also the fact that the series starts with winter, which sort of makes the most sense, to premiere in, well, actual winter, so I won't get my hopes too high that we're going to get the gift of Gilmore this summer.
Image: Netflix (2)