You Have To Hear Paxton Ingram Sing Celine Dion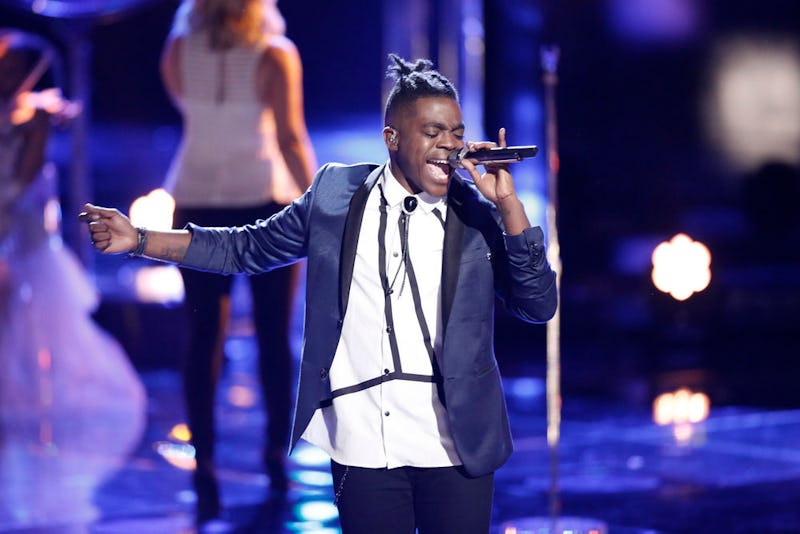 There's only a few weeks left of The Voice Season 10 and the contestants are certainly bringing their A-game. One contestant who left it all on the stage in the Top 10 was Paxton Ingram. Ingram has been one of my personal favorites since the beginning thanks to his smooth vocals and cool personal style. Other viewers are clearly smitten with the artist, as well, as he's had no problem singing his way into the Top 10. And something tells me that he'll have no problem making it even further in this competition. Ingram's performance tonight was out of this world and elevated him to the next level in this competition.
Ingram took a huge risk in the Top 10 and it totally paid off. The former dancer tackled Celine Dion's "It's All Coming Back To Me Now" and didn't disappoint. While some artists would run from the challenge, Ingram embraced it head on. He showed no hesitation in making the song his own. It can be difficult to do this with a classic such as "It's All Coming Back To Me Now," but Ingram did it with ease by adding his own flavor to the vocals. Overall, Ingram owned his Top 10 performance and I can't help but think he'll be rewarded for it by receiving a one way ticket into the Top 9.
This season of The Voice is brimming with talent but Ingram certainly has a shot at the title. The Team Blake singer continues to show off his originality and fans are loving it. As long as he continues to one-up his own performances, Ingram will have no problem coasting through the competition week after week. With a coach like Blake Shelton by his side, it's quite possible that Ingram could make it all the way to the end.
Image: Tyler Golden/NBC