Romance Is Already Brewing On 'Below Deck Med'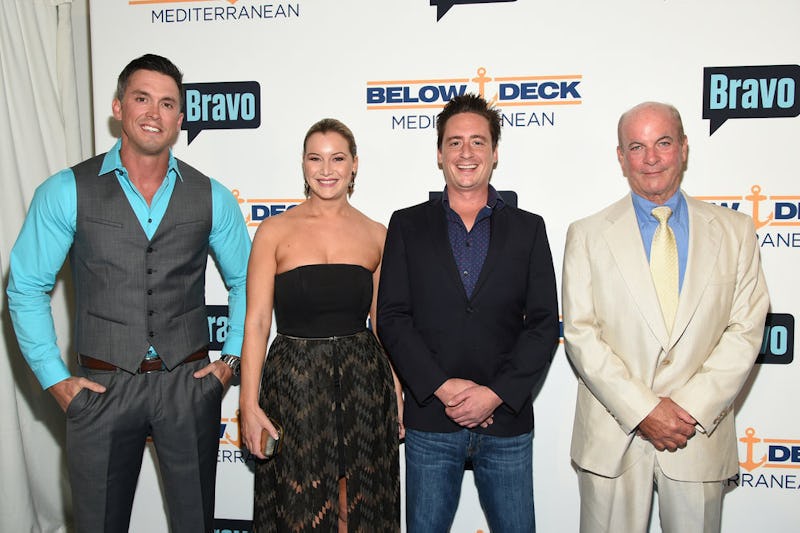 The series premiere of Below Deck Mediterranean introduced the brand new crew of the series, who will be traveling around beautiful, picturesque Greece while living and working in close, close quarters. And considering the beautiful location and the tight-knit staff, it's no surprise Below Deck Mediterranean romances are in full swing after just the first episode. Every season of Below Deck has some kind of romantic connection between the cast members, and Mediterranean is already throwing out some possible pairings. Immediately, Bobby and Hannah exchange a little bit of flirty dialogue, and the chief stew confesses that she has a bit of a crush of the super-tall former fireman. And Hannah was the subject of a few other crushes, too — both Ben and Jen admitted they were smitten with her.
As deckhands Bobby and Danny got to know one another, they bonded over Bobby's interest in Julia and Danny's appreciation for their charter guest. Unfortunately for the deckhand, Julia is happily in a relationship, and hitting on guests is always a no-no while working on a superyacht, so they're going to have serious problems finding some romantic prospects before the end of the season. I'm sure these two would have no problem finding someone to hook up with on any normal circumstances, but I'm predicting that the powder keg of these love triangles (well, right now, more like flirt triangles) are going to result in some very awkward future hookups.
But work ruled the first day on board the Ionian Princess, not romance, so another noteworthy thing to keep your eyes on is potential, subtle gender inequality on the ship that may return in future episodes. Jen was not happy to be excluded from some of the tougher, more physical work on deck, even though she's an experienced deckhand. Hopefully, that will change soon and she'll be given the same work as the other deckhands.
However, Jen is in danger of losing her job entirely after lying about showing up to work on time. Danny pulled double duty for the early-morning shift, and I don't think he has the experience to warrant being left alone with guests (that he may or may not try to hit on).
Meanwhile, Tiffany is struggling to adjust from her marine biology studies to the menial work of a third stew, and she needs something to get her on board (pun intended) with the occasional tedium of working on a charter yacht. Below Deck has proven that too much ironing laundry can make a third stewardess go mad. Perhaps Tiffany will learn to love making up laundry songs, like Rocky, or maybe, like the rest of the Below Deck Mediterranean cast, she'll channel her energy into pining after a possible romance.
Image: Mike Coppola/Bravo