Here's Where To Get A Waffle Cone Frapp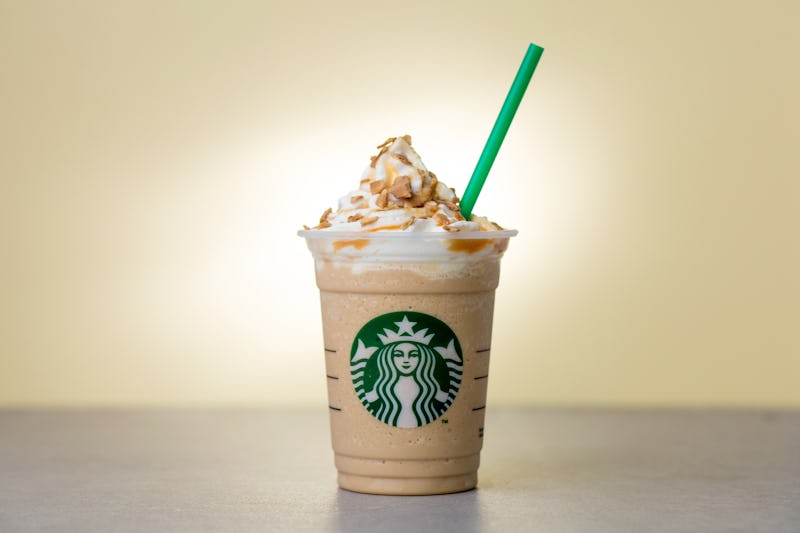 With the arrival of a brand new Frappuccino, one of the first questions that comes to mind is, of course, where can I get a Starbucks Caramel Waffle Frappuccino? Well, I've got good news and bad news — but at least the bad news isn't actually all that bad. Here's the deal on where these tasty-sounding drinks might be found.
First, the bad news: The Caramel Waffle Cone Frappuccino is only available for Starbucks fans located in the United States or Canada, so if you live somewhere else, you're out of luck. The good news, though, is that it'll probably be pretty easy for folks in those two North American countries to find; the stipulation is that the drink is available at "participating locations," but honestly, I don't think I've ever actually encountered a Starbucks that did not have the ability to make whatever fancy new drink was the hot new thing. I mean, I suppose it's always possible that you could stumble upon one that didn't have the requisite ingredients… but it's probably quite likely that your friendly neighborhood Starbucks baristas will welcome your Caramel Waffle Cone Frapp order with open arms and whirring blenders.
Not sure where your nearest Starbucks is? If you live in a major city, you probably don't have to go too far to find one — in New York, for example, there's one approximately every five blocks — but in case you live somewhere with fewer Starbuckses per square mile, good news: The Starbucks store locator has you covered. Heck, it has you covered if you do live in one of the aforementioned cities, too; here's what DC looks like, for example:
Unlike the Ben & Jerry's store locator, unfortunately you can't narrow the Starbucks store locator's results to places serving the Caramel Waffle Cone Frappuccino; however, once you've found your nearest one, you can always give them a call to double check. Plus, the Starbucks locator does have a few other tricks up its sleeve in case you're looking for something besides limited edition Frappuccinos. See that menu on the left hand side in that image up there? You can scroll down it, checking boxes as you go for things like Starbucks Evenings, oven-warmed food, Fizzio sodas, Starbucks Reserve coffee, and free Wi-Fi. This will filter the results, giving you exactly what you're looking for. Neat-o, right?
The Caramel Waffle Frappuccino features waffle cone flavored syrup, dark caramel sauce, whipped cream, and waffle cone pieces, and it's priced at $4.25 to $4.95 for a 12-ounce Tall, depending on what market you're in. It'll be available all summer while supplies last, so feel free to enjoy as many as you can between now and the end of the season. Yum!
Images: Starbucks; Lucia Peters/Bustle (2)