The Best #MayTheFourth Posts From The 'SW' Cast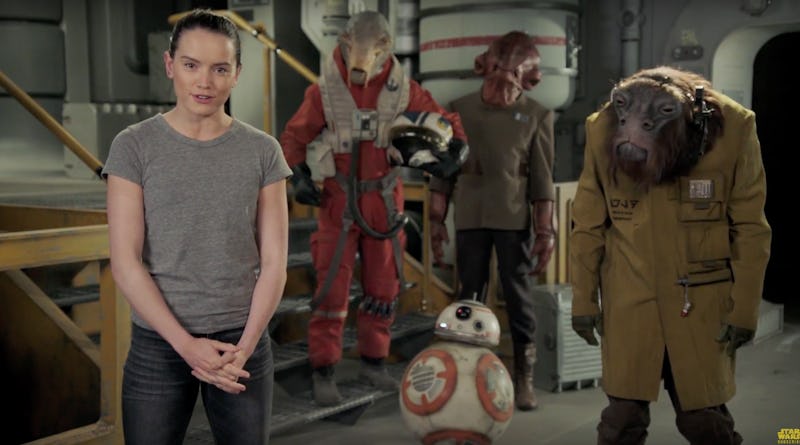 If you didn't immediately wake up this morning and stalk the May the Fourth posts from Star Wars cast members, then have no fear — I, an adult human woman who just commuted on the subway in Rey buns, have rounded up all the awesome sauce here. This Star Wars Day promises to be among the most epic of them all, with the fandom still victory lapping from the record-breaking Star Wars: The Force Awakens and anticipating the release of Rogue One: A Star Wars Story in December. Now older and newbie cast members alike are joining forces to celebrate this momentous occasion, and we have more than a few reasons to be proud — the day has barely even begun, and we're already hogging four out of the 10 most trending hashtags of the day.
Since we 100 percent imported some precious British humans as the two main Star Wars leads in the latest installment, fans were treated bright and early to posts from Daisy Ridley on Instagram. This was quickly followed up by a delightful video from Ridley, helping campaign for the Star Wars charity Force For Change (stick around to the end for a ~surprise~ cameo from Mark Hamill). In the video, Ridley gets a fitting present from co-star Boyega:
D'awwwww. This, of course, is only a fraction of the cuteness of the MANY enthusiastic Instagram posts Ridley gifted the world. If I may say so, the cutest among them is the one featuring her and Boyega, where she references the nickname "Peanut" that they both use for each other. #FriendshipGoals forever and always.
Mark Hamill also joined in on the fun, posting this tweet in celebration of the holiday and encouraging fans to donate to support the cause.
Even our favorite rolly-polly droid has a very important and emotionally-stirring message for us today.
I'm personally still hovering at the edge of my seat waiting for John Boyega and Carrie Fisher to join in on the fun, so much so that I have blocked out at least 10 minutes of my lunch break to decipher whatever Fisher writes in her clever Twitter emoji scrawl. Until then, we have this RIDICULOUSLY adorable post from honorary Star Wars cast member and diehard fanboy Jacob Tremblay, who recently named his new pup Rey and filled our collective hearts with more joy than they could handle.
To learn more about Force For Change and how you can win awesome Star Wars-related prizes, check out the Force For Change website here. This week's winners will get a trip to London for a Star Wars celebration and a meet and greet with Mark Hamill, so dust off your lightsabers and get crackin', fellow Force users. And have a very merry Star Wars Day!
Image: YouTube