Jules & Bethenny Buried The Hatchet On 'RHONY'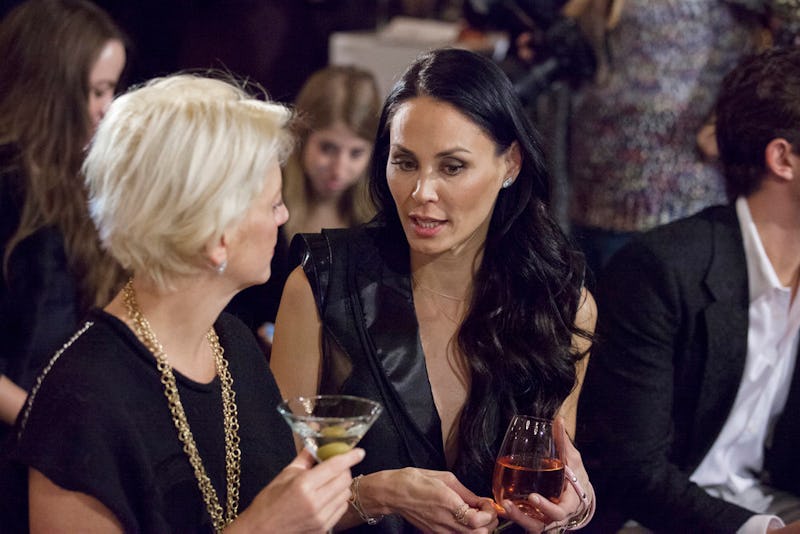 My jury is still out on new Real Housewives Of New York star Jules Wainstein. She's brand new to the franchise, and, as experienced Housewives fans know, it's hard to infiltrate these groups. Navigating has already proved hard for Jules, as she got into a bit of a dust-up with Bethenny at a brunch she held at her home. It was mostly Jules not understanding how Bethenny operates, and, luckily, Bethenny and Jules made up on Real Housewives.
As soon as Bethenny explained how she operates (she said all the comments she made about Jules' house came from a place of her own anxiety, which we've seen is true on Real Housewives Of New York), Jules opened up to Bethenny and admitted that she struggled with an eating disorder in her late teenage years and early twenties. Bethenny, touched that Jules would open up that way and share such a private moment, told Jules that her mother suffered from eating disorders, too. Bethenny felt she understood the pain that Jules had gone through because she had seen it in her own mother, and the two bonded over this tough time in their lives. Both Jules and Bethenny left their lunch feeling better about their relationship.
Will Jules and Bethenny be the next Real Housewives Of New York best friends? I don't think that's the case, but these two have definitely come to a special understanding. Jules later told Carole that she finds Bethenny to be "warm" and "easy to talk to," which is a far cry from an episode or two earlier. With so much other drama going on this season on Real Housewives Of New York, it's good that these two are copacetic.
Images: Heidi Gutman/Bravo; Giphy