This 'Friends' Themed Bridal Shower Is #Goals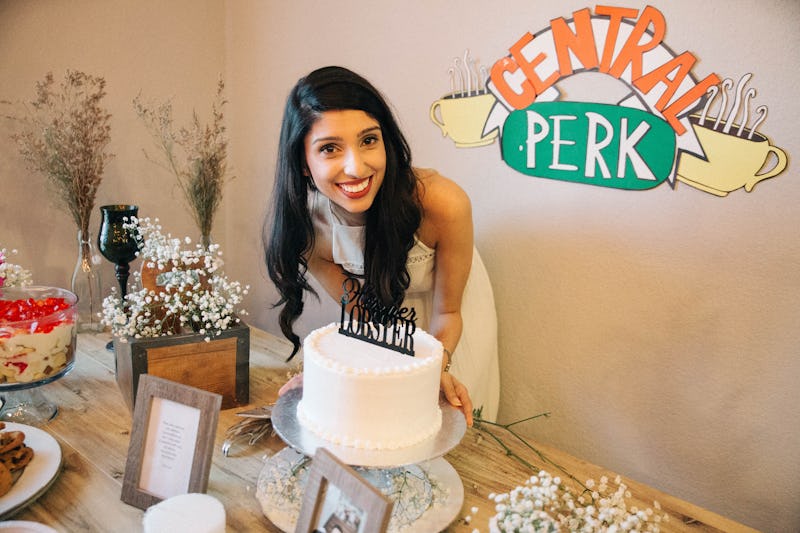 If there were ever a time to praise your Netflix gods for bringing this series back to our laptop screens, it is right now — because seeing this gorgeous Friends -themed bridal shower is going to give you so much FOMO that marathoning seasons one through oblivion tonight is the only way you're going to survive it. Hardcore Friends fan and bride-to-be Sana Khan and her fiancé, Taufik Chhotani, frequently watch the show together over FaceTime, since a lot of their relationship has been long-distance. Because this family couldn't get any more awesome if they tried, it turns out Sana's sister (and amazing photographer) Shamain Khan is also a huge Friends fan — which led her to team up with the bride's friend Michelle Naik and create the most epic bridal shower of all time.
"We've been Friends fans forever, we'd actually watch with our mom growing up," Shamain told Bustle. They're on their third re-watch right now, which is probably why the details of this bridal shower are so slammin'. Shamain worked on the Central Perk sign and the gorgeous food labels, while Michelle took over decor and flower arrangements. There is a tribute to every single character in the this gorgeous bonanza — all Friends fans need to grab a pad and start taking notes, because I doubt any party will ever quite top this.
Here are Shamain Khan's stunning pictures of the event — be sure to check out more on her website, her Instagram, and her Facebook page!
They nodded to the characters with each of the dishes as well — I'll go ahead and call this next round of images "The One Where You Exploded From Retroactive Food Jealousy".
Just remember on that last one, guys...
The party also had sweet quotes from the characters throughout, among other little homages.
Um, hitting pause for a second because #MUGGOALS.
BRB, crying.
BRB, OPENLY WEEPING.
So glad that Sana and Taufik found their lobsters in each other, so that the entire Internet could be graced with this awesome celebration of their love!!
Of course, no party would be complete without a nod to the most infamous line from Friends of all time...
Decades will pass, tides will shift, and the earth will swallow itself into a black hole — but no matter what else happens, Ross, Friends fans will NEVER LET THAT GO.
Congratulations, Sana and Taufik! And #bless everyone involved in this bridal shower for giving us wedding aspirations we didn't even know we had. May this be the first of many inspired spinoff parties, and may I hopefully get invited to one of them, stat.
Shoutout to photographer and Sister of the Year Award winner Shamain Khan, who took all these lovely photos. See more of her awesome work on her website, her Instagram, and her Facebook page!
Images: Courtesy of Shamain Khan