This Is How Much Pharrell's New Line Will Cost You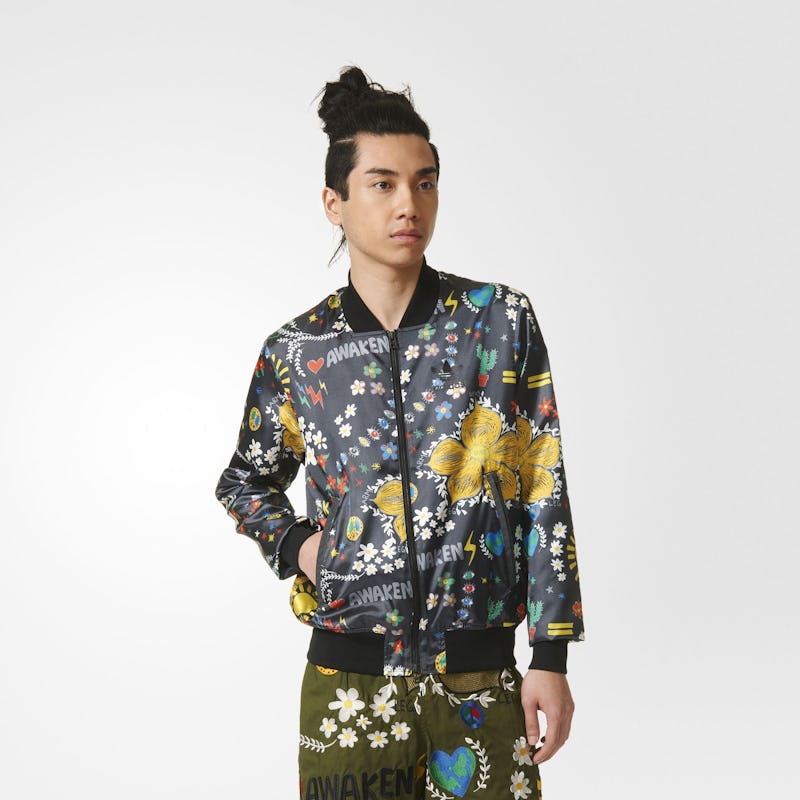 ICYMI, Thursday brought the release of the highly anticipated Pharrell Pink Beach line for Adidas. Fans were majorly excited about the entertainer's latest line with Adidas, and they went crazy for the fun, poppy prints and beachy feel of Pharrell's Pink Beach line. And, they were willing to drop some pretty serious cash. So how much does Pharrell's Pink Beach collection for Adidas cost? You probably won't be able to pick up a look from the collection without dropping at least $200.
Thursday's release of the first collection brought just a few pieces, including a patterned shirt and shorts set, a zip-up bomber jacket and a waterproof windbreaker. All are supposedly inspired by island culture, and they're each brightly patterned and super colorful. Prices for the pieces that have dropped already range from $150 for the shorts to $320 for the bomber jacket. A little pricey, but the collection is also super unique, and the statement pieces will be perfect to wear all summer. In addition to these pieces, the rest of the collection drops on May 12, and it'll feature many more pieces (think bikinis, leggings and tanks) along with two pairs of sneakers. Here's what your dollars will get you right now:
Printed Jacket
Artist Printed Blouson Jacket, $320, adidas.com
The most expensive item (so far) in the collection, this printed blouson jacket is super vibrant and fun. It's in the men's collection, but I'd totally wear it.
Printed Windbreaker
Artist Printed Windbreaker, $250, adidas.com
Fun and functional? Sign me up. This jacket is the less expensive of the two, and it'll keep you dry through spring and summer showers.
Want more fashion and beauty tips? Check out the video below and subscribe to Bustle on YouTube!
Shirt & Short Set
Artist Embroidery Shirt, $170, adidas.com
Artist Embroidery Shorts, $150, adidas.com
I suppose you could buy these two pieces separately and avoid spending more than $200, but why would you do that? I love the combo of these two pieces together.
If these four pieces are the barometer for the rest of the collection, it looks like Pharrell's Pink Beach line will be on par with other Adidas collabs in terms of pricing. It's a little more expensive than the brand's regular lines, but with pieces this unique, it's worth it to pay a little more.