'Finding Dory' Just Won Mother's Day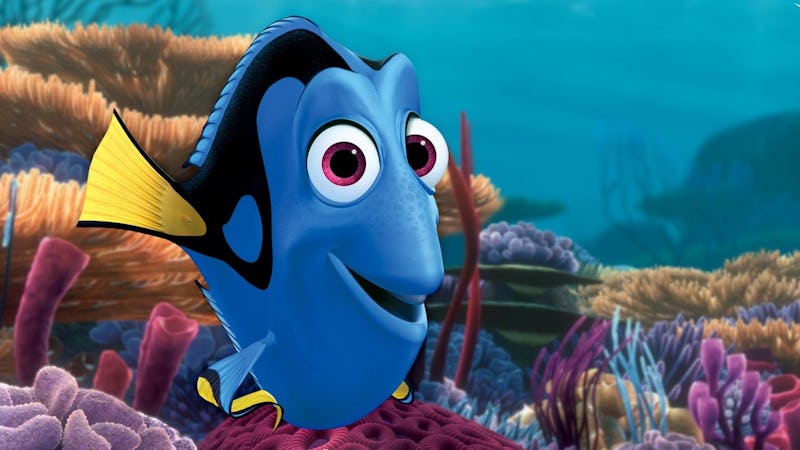 More than a decade has passed since Nemo, Dory, and Marlin went on their first big adventure in Finding Nemo, but now, the trio are finally off again in Finding Dory. Set to premiere June 17, Finding Dory is about Dory's quest to find her parents played by Diane Keaton and Eugene Levy. Dory being Dory, this is no easy task given her chronic short term memory loss. So far the trailers have not revealed what Dory's parents look like, but in a special Mother's Day promo, Pixar gave fans a sneak peak at what Dory and her mom Jenny's dynamic will be like thanks to the banter between Ellen DeGeneres (Dory) and Keaton.
Even without stunning animated fish, this promo will melt your heart. DeGeneres and Keaton have effortlessly playful chemistry with each other, as shown by when DeGeneres cheekily wishes everyone a Happy Daughter's Day, and Keaton gently reminds her it is Mother's Day, or "holiday mother." The two women are so sweet together that they honestly feel like a mother/daughter duo already. Keaton even gives DeGeneres a big kiss on the cheek in true mom fashion.
The best part of this special holiday promo is it gives you real insight into what the relationship between Dory and Jenny will be like. So far, nothing major has been revealed about Dory's parents, but Finding Dory will be driven by Dory's need to find her home. Dory forgets things as fast as she learns them, but she has a beautiful heart, and emotion drives her actions more than anything else. If this snippet of DeGeneres and Keaton interacting is any indication, then it looks like Dory's capacity for love and cheerful patience came from her mom.
DeGeneres is definitely channeling Dory here as she has to be gently reminded of which holiday she is there to celebrate, and the way Keaton leans in and quietly corrects her is so adorable you will not be able to resist grinning over these two's combined cuteness. Dory and Jenny have been apart for some time — at least six months, since that is how much time has passed between Finding Nemo and Finding Dory . It feels like Jenny was Dory's rock, always reminding her of the important things in life: that she was loved and she should always keep swimming.
Seeing this mother and daughter reunite is sure to be one of Pixar's patented tearjerker moments, but it is so going to be worth sobbing in a theater to see Dory and Jenny's reunion. Thanks to Keaton and DeGeneres, I am now somehow even more excited to see Finding Dory than I was before. Strong bonds between mothers and daughters are so special, and it is going to be a wonderful experience to see Dory and Jenny find each other again.
Image: Pixar