Hannah Huston Deserves To Win 'The Voice'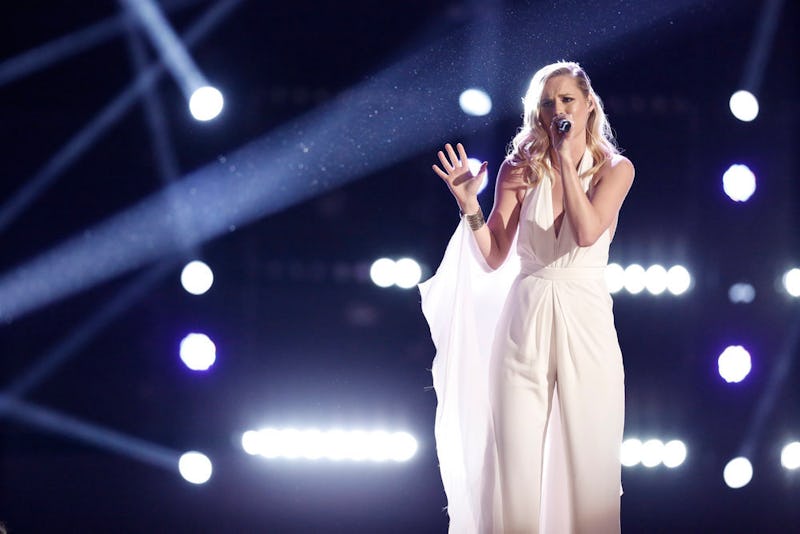 The best just keeps getting better. Team Pharrell's Hannah Huston took The Voice Top 9 stage with an emotional rendition of "Say You Love Me" by Jessie Ware and slayed. On top of her killer vocals and performance, she had a choir singing her back up. Like come on, a choir. If that doesn't prove how awesome this girl is than I don't know what will. Huston's talent is unmatched in this competition and she continues to gain momentum. As long as she doesn't have a terrible week between tonight and the finale (which means she really only has to survive next week), Huston will be a finalist for sure — and she could even win The Voice Season 10 title.
Huston has quite possible my favorite story of the season. As a preschool teacher from Nebraska, Huston performed her music once or twice a year at most. Music was something she always loved, but didn't think she could pursue on a larger stage — until The Voice. She decided to audition for the famed singing competition and the rest is history. If her Blind Audition was any indication, Huston was born for stardom and has proved this this every week of the competition since the start.
Under Pharrell's guidance, Huston has blossomed from a preschool teacher to a full-on superstar. With a powerful voice and crazy range, she can sing basically anything. In just the past few weeks, she's performed music from a range of genres and musical styles. Huston is the contestant who can do it all – which is why she deserves to win this competition. The coaches know this and America seems to know it too. As long as she keeps performing the way she has been all season long, Huston is a shoe-in for the finale — and could most certainly win the title of The Voice Season 10 champion.
Image: Tyler Golden/NBC