17 Memorial Day Drinks To Kick Off Summer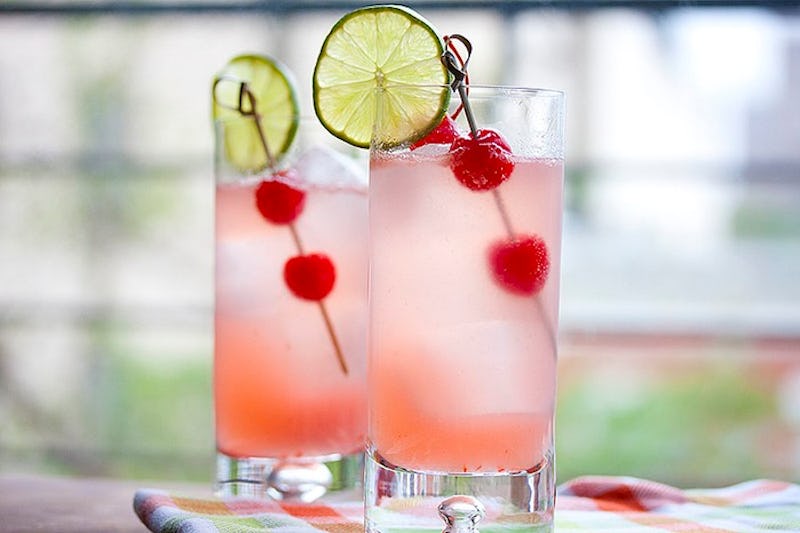 Sip your way into the start of summer this Memorial Day weekend. While there is sure to be plenty of beer at your backyard barbecue, take things up a notch with sinful summer cocktails sure to make you feel like you're already on vacation. These refreshing Memorial Day drink recipes promise to embrace you like a balmy beach breeze and transport you to tropical destinations by way of guava, grapefruit, berries, and baby pineapples (not to mention generous doses of limoncello).
While both the temperature and the grills are heating up, cool off with a cucumber-infused Collins. Wash down that barbecue with a watermelon slush that has a not-so-secret something extra, and make your Michelada a little more lethal with a touch of kimchi. Give your beer a bourbon bonus for surprisingly synergistic results, then kick back on the porch with just the right julep to wind down from all the fun in the sun. Whatever you're drinking this Memorial Day, make sure your libations are a treat in their own right, and make for pitcher-perfect pours everyone can enjoy. Now lather on that sunscreen, don your summer shorts, and grab an ice cold cocktail to get you through the heat. Bottoms up!
1. Summer Bourbon Cocktail
Start off the season with this smooth number from A Spicy Perspective that balances the sweetness of apricot jam with the tartness of limoncello. Top off with a sage leaf and get to sipping.
2. The Wish You Were Here
When peach, banana, tequila, and St. Germain get together and mix around in a baby pineapple (that was begging to be made into a cocktail cup), the results are downright delicious. Recipe creator The Crepes Of Wrath promises "you've got yourself a tropical treat that you won't be able to get enough of."
3. Honey Paloma
This take by The Little Epicurean on the classic Paloma switches out grapefruit-flavored soda for grapefruit juice and club soda, providing added depth and flavor to the refreshing concoction so it's "bursting with grapefruit" and "is sure to become a favorite."
4. Malibu Sunset
Averie Cooks admits "there's really no wrong way to do pineapple and orange juice, coconut rum, grenadine, and cherries." This delightful mix "tastes what a tropical vacation should taste like," and for those concerned about the coconut, it isn't "ridiculously coconutty."
5. Watermelon Slush
"You know you can't have a Memorial Day party without a refreshing pitcher of watermelon slush," reminds Damn Delicious, whose vodka-infused drink is the perfect addition to your backyard barbecue and comes together in just five minutes.
6. Mojito Margaritas
Find synergy in the ultimate fusion of your favorite summer libations. How Sweet It Is is "cheers-ing to the idea that mojitos can be margaritas and margaritas can be mojitos." Why settle for one when you can combine the two in "one lime blasted" cocktail that signals the start of sunnier days?
7. Mango Coconut Water Tropical Martini
This mango mixed drink by Averie Cooks reminds her of a tropical vacation and the wind in her hair. Follow her lead and nurse a couple of these with friends during the outdoor parties and barbecues Memorial Day weekend has in store. She also reminds that "the potassium and anti-oxidants in the coconut water make it a natural way to prevent hangovers." I'd say that earns you one more round.
8. Brooklyn Lemonade
If you're more of a beer drinker than cocktail connoisseur, ease into it with this concoction that brings together beer, bourbon, and bitters for satisfying results. As recipe creator The Crepes Of Wrath puts it, "what better way to relax after a long day (or BBQ) than with bourbon, lemonade, and beer? Tell me."
9. Blood Orange Bourbon Cocktail
For a berrier take on bourbon, look no further than this fruity number by The Little Epicurean. Similar to a whiskey sour, the cocktail combines citrus, ginger, and sour mix for a "light and refreshing" finish. The blood oranges "provide the perfect je ne sais quoi."
10. Cuban Fizz Cocktail With Fresh Mint
Salud with this Cuban concoction from Climbing Grier Mountain, complete with rum, fresh lime, and fizzy Prosecco.
11. Guava Mojitos
Turn up your mojito game with the tropical punch of guava with this recipe by Table For Two.
12. Honey Lime Margaritas
"What's better than a few cocktails at 4 in the afternoon?" asks recipe creator Simply Scratch. With just five ingredients and a five minute mix time, you can have these tasty margaritas any time of the day. Serve them up at any hour this Memorial Day weekend.
13. Sumo Cucumber Collins
Take a cue from The Crepes Of Wrath and serve up this refreshing gin cocktail that's surprisingly simple to make and "absolutely perfect for a hot summer day."
14. Spicy Kimchi Micheladas
For something a bit spicier, check out these funky Micheladas that boast an added kimchi kick. As per recipe creator Climbing Grier Mountain's suggestion, "this bad boy is best served on those days where you feel like lounging under the sun and with zero distractions." Bring on Memorial Day weekend.
15. Peach Prosecco Punch
This perfect party punch by Damn Delicious takes just five minutes to whip up. Garnish with as many fresh or frozen berries as you'd like, then toast to the new season and long summer days ahead.
16. Grown-Up Lime Rickey
Remix this classic childhood treat for some adult fun this summer with this grown up take by The Crepes Of Wrath. All that's required is a little St. Germain to transform this mocktail into the ultimate summer cocktail.
17. Blueberry Mint Julep
This sultry julep from How Sweet It Is is summer porch ready. Slow sip this blueberry version to unwind this Memorial Day weekend, and set the tone for a relaxing rest of summer.
Images: The Little Epicurean (3), A Spicy Perspective, The Crepes Of Wrath (3), Averie Cooks (2), Damn Delicious (2), How Sweet It Is (2), Climbing Grier Mountain (2), Table For Two, Simply Scratch