The 'OITNB' Season 4 Trailer Is Intense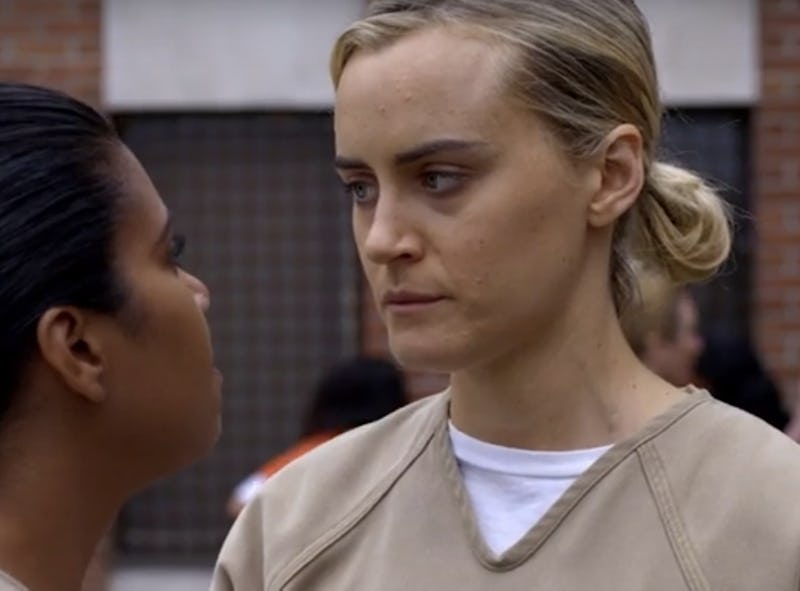 Excitement for the next season of Orange Is The New Black is already huge, and the official Orange Is The New Black Season 4 trailer proves that viewers have a lot to look forward to. In true Orange Is The New Black style, the new trailer runs the whole gamut of emotions, but fear and dread pervade throughout. While Season 3 was upbeat in lots of ways, Season 4 looks unsettling, violent, and unpredictable. To help convey the mood of the fourth season of the hit Netflix show, which will be released on June 17, the trailer utilizes an awesome song which everyone will want to download immediately. So what is the song in the Orange Is The New Black Season 4 trailer? Everyone will want to hear a lot more from this band.
The song used in the trailer is called "Way Down We Go" and is by Icelandic band Kaleo. The song was released as a single in 2015, and features on the band's forthcoming album A/B, due out on June 10, 2016. Most exciting is the fact that you can watch the band perform the song inside a volcano. Seriously, Kaleo performed "Way Down We Go" inside an actual volcano. Now that's a band I want to find out more about.
According to their official website, the band are already "a phenomenon in their home country of Iceland." Having had their music featured in the HBO series Vinyl, and in the Season 5 finale of Suits, Kaleo are firmly on the rise. The inclusion of their single in the new Orange Is The New Black trailer is sure to reach a massive audience, and gain even more fans for the musicians. Their bio describes their music as a "gorgeous blend of folk, blues, country, and rock," and it's undoubtedly their unique sound and haunting vocals that attracted the team behind Orange Is The New Black to their work.
As always, the Season 3 finale of Orange Is The New Black left viewers with a cliffhanger, and it was unclear whether Piper's on-and-off love interest Alex was in serious trouble or not. Since Alex doesn't appear in this second trailer for the show, her fate is called into question once more. With the tagline "Who will fight, and who will fall?," it looks like Season 4 of Orange Is The New Black is going to be filled with violence and drama. And I can't wait.
Image: Netlifx US & Canada/YouTube