'OITNB' Season 4 Could Kill Another Inmate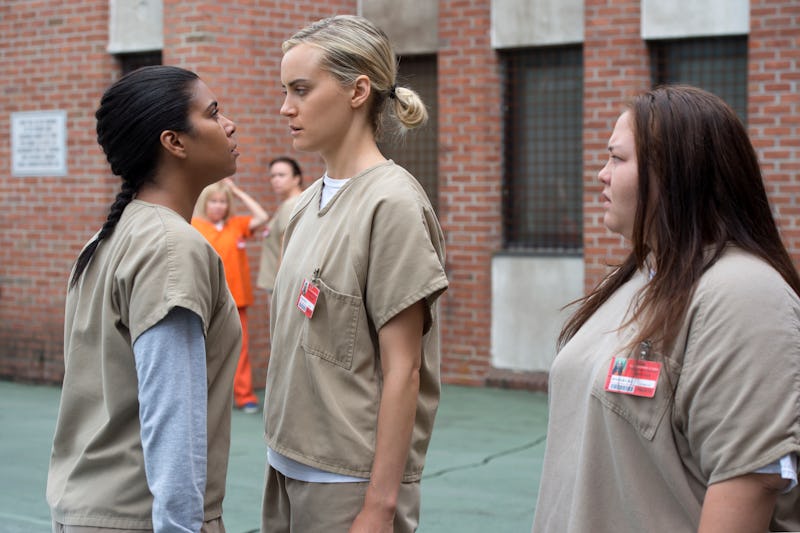 Staying at Litchfield is no frivolous vacation, and it looks like Season 4 isn't going to be any different. Upon the release of the Orange Is The New Black Season 4 trailer, it soon becomes clear that things are taking a turn for the worst. And, if things continue in the direction they were going in Season 3, I wouldn't put it past the writers of the show to kill off yet another character. Things aren't looking so good for a select number of them — and the show has definitely killed off some characters in the past.
Now, I know that you probably don't even want to think about this idea. However, with the introductions and deaths of characters such as Trish in Season 1, Vee and Rosa at the end of Season 2, and the possible death of Alex at the end of Season 3 — along with the disappearances of numerous other characters along the way — it seems likely that we will lose yet another Litchfield inmate in Season 4. Plus, with all of the new characters on the scene, they're going to have to make some room.
So whose fate may reach a dramatic and tearjerking end? Obviously, seeing any of the characters — especially ones from the show's original cast — meet their end is not going to be easy, but the Season 4 trailer does provide it's fair share of hints.
Whether or not it's the drama within Litchfield, or the new order of the prison itself, that will lead to a character's end, that is still pretty unclear. While tension is building between the women themselves, Lolly also happens to say, "They could just wipe us out," as we see the correctional officers taking charge. And that means that nobody is really safe. However, with short clips of Piper receiving a direct death threat, Lolly being dragged away by officers, Lorna and Red seriously struggling with their own personal issues, and Crazy Eyes in the hospital, the fate of those characters appear to be the most perilous. And my heart just can't handle the thought of losing any of them.
However, I'm going to have to brace myself for the ride anyway, and I would suggest you do, too. As Piper's tattoo states, "Trust No B***h," because, on June 17, Netflix watchers may be in for their most dramatic prison stay yet.
Images: NetflixUS&Canada/YouTube