'Empire' May Lose Its Patriarch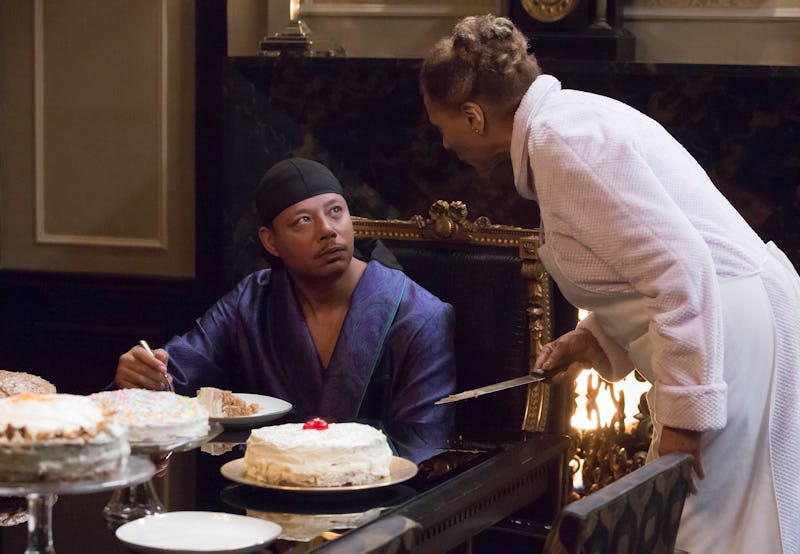 The promos for Fox's beloved musical drama haven't been subtle: "A Lyon will fall," say the Empire trailers, preparing fans to lose one member of the first family of the fictional music business. Like any great soap opera, Empire is steeped in conflicts, secrets, and personal vendettas. It doesn't take much imagination to dream up scenarios for Cookie, Lucious, or any of their three boys to be the one to meet their end by the time the season is done. I have a feeling that Empire is going to do something that it hinted about doing back in Season 1, when the mogul thought himself terminally ill. I think Empire is going to kill off Lucious Lyon.
There are only two episodes left in Empire's sophomore run, and the creative team will want to give fans a finale that keeps them talking all summer long. What better way to do that than to snuff out the family's patriarch? Killing Lucious (Terrence Howard) wouldn't destroy Empire as fans know it; it would open the show up to more stories and eliminate the predictable. Lucious' character is so despicable and self-centered that I usually know what he's going to do before he does it. Given a choice of actions, what does Lucious pick? The very worst one, always — the one that benefits him the most.
Beyond that, the soul of Empire isn't Lucious. It's Cookie, by a mile. The show would probably slash its ratings in half if Taraji P. Henson ever left the show. But Lucious' removal would save the show from the habitual mustache-twisting that's starting to weigh it down. The business is still the business; there will still be outsiders who want what the Lyons have. Lucious' death wouldn't end the family's the troubles or set Empire up for a boring Season 3. In fact, it could ignite the drama in time for that third season.
Empire received its Season 3 renewal relatively early in the season, thanks to strong ratings, but at that time there was no confirmation on which actors had inked deals to continue on with the show. Adding to that uncertainty are the rampatn rumors about on-set disagreements have plagued the show (as they do most successful series). For starters, OK Magazine is one of the outlets that shared anonymous reports of "tension" behind the scenes last year. Plus, Howard has walked away from high-profile projects in the past — Don Cheadle wasn't always the James Rhodes to Robert Downey Jr.'s Iron Man. Howard played that role in the first film and told Andy Cohen in an appearance on Watch What Happens: Live that contract issues led to his departure.
Still, any speculation about Howard leaving Empire is just that for now. But story-wise, Lucious Lyon has quite a few targets on his back thanks to his double-dealings. The FBI is still very interested in him; he's employing the daughter of the man he had killed in prison; and he just ordered a hit on a reporter who knew too much about his family. Oh, and his own mother threatened (nay, promised) to murder him after his oldest son Andre brought her back into Lucious' life.
I can't say for sure whether Lucious Lyon will die in Empire Season 2, but I am confident that the show can keep on grinding without him if he does.
Images: Chuck Hodes/FOX; Giphy (2)